Tucows
March 19, 2017
Hey everyone,
I have yet again discovered a fairly high risk/reward company, and yet again it was because of (but way after) The Motley Fool (I may eventually get a subscription tbh).
I'd like to right away start off saying that although the speculative investments I have discussed so far are perhaps the most exciting (Shopify and now Tucows), they compose only a small portion of my portfolio.
Now, Tucows (TSE: TC) is different from Shopify because they actually have incredibly impressive financial statements all around (including profit growth!), more than any other company I own.  But they do deviate from some of our tenets in several ways:
No dividends
Company's success has only started in the last 5 years
They are far from dominant in their industry
Definitely not selling cheaply (but cheaper than Shopify)
So what do they do?  I found a great article that more-or-less sums up the company:
https://www.bloomberg.com/news/articles/2017-03-15/tucows-bet-on-fed-up-u-s-mobile-phone-customers-propels-shares
To summarize, here are their businesses:
Domain re-sale and management (2nd behind GoDaddy)
Network access (via Ting mobile and internet)
Oddly enough, Shopify is actually a customer of Tucows' domain businesses.  I don't care much for that business though; as the CEO says in that article, it's rather competitive and low-margin.  What really appeals to me though is Ting.
First of all, I, like many of you, really don't like big telecom companies, and I love rooting on the little guys that can provide me cheaper service with more transparency, which Ting does.  Second of all, Ting stands for all the right things… well actually just the most important thing: quality customer service.  This has landed them in some impressive realms.  For example, the following information was taken from their investor presentation which I encourage you to peruse: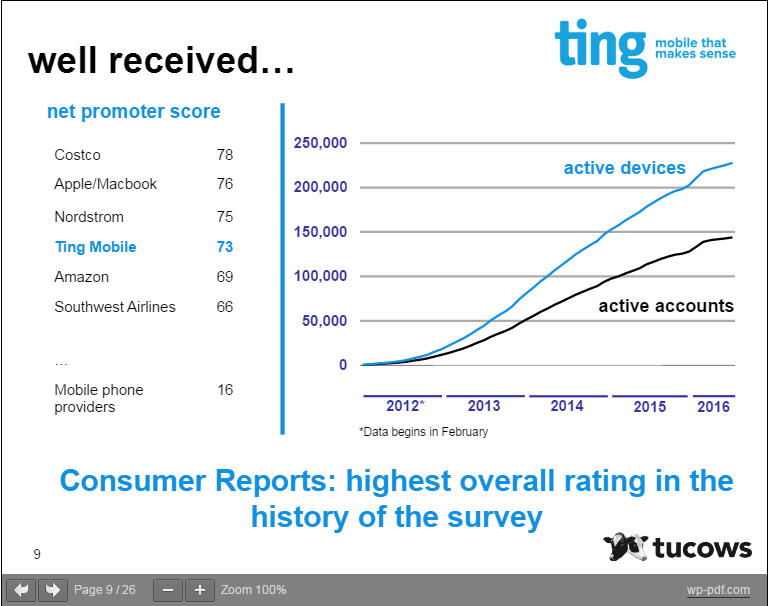 Now, if you're like me, you're probably wondering what net promoter score is. After a quick Google search, it's the willingness of a company's customers to recommend their brand to others. Wow, that's impressive. Ahead of Amazon who gets my order on my doorstep within a day's time? Or Southwest Airlines whose flight attendants rap on my flight? And MUCH further ahead of all other mobile phone providers? That's a company I can get behind. In fact, 11% of their new customers join as a result of their referral program.
So what markets are they in and how have they corralled customers from the big guys? Well, their mobile service is already across the U.S. (using Sprint's network), but their internet service is just getting started. This is also from their presentation: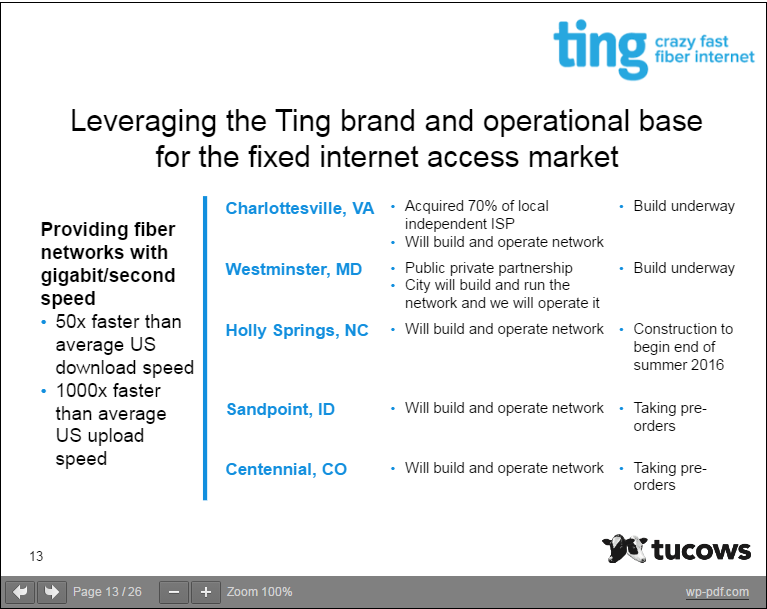 Have you heard of any of those communities?  Me neither.  And I'm guessing the big telecom companies haven't either.  Ting internet is starting in communities where the big guys don't make enough revenue to care, and that's really, really smart.
Here are some things that do make Tucows attractive:
Like all telecoms, their Ting business is recession-proof
Moreover, Ting's revenue is consistent and recurring
Ting obviously has strong brand loyalty
As their CEO was quoted in that article, they do have an incredibly attractive balance sheet (low debt/equity ratio), which provides lots of opportunities for acquisitions and growth
Their revenue has consistently grown by 10-15% every year for the past 4 years
Their net income has grown on average by 40% each of the last 4 years
Their net margins are improving, growing to almost 9% last year
Over the last 4 years their ROE and ROTC have averaged 26% and 22% respectively, which are enough to make any investor ecstatic
And they're even buying back shares! What aren't they doing right?? (not paying dividends and relying on R&D…)
Now, I recently got a response from my mentor regarding the company, seen below:
Generally fine with the company but it does not have a great record of beating earnings estimates. Yes you are correct, it now has an issue with valuation versus its quality and prospects. Sure growth has been good and will continue to grow but expensive @ ~ 33x PE. Investors love the eNom acquisition but it is a fairly big bet at $84 million. But the company is also buying back stock and insiders own 15%. Again, it doesn't seem to have beaten estimates (sales growth was 9% last Q, but did decline from 11% the prior Q). Finding whether it has a real competitive advantage is hard to say. I'm typically not a big fan in investing in telecoms. I only have Telus and primary a bigger position on BCE and American Tower (AMT a long time now – I rather dominate the cell towers and never have to worry about it forever because it's the infrastructures that counts. Cell towers are always needed and you don't have to worry about client base loyalties and competiveness. BCE is the cream of the crops and I can sleep easy with it). TC will most likely want to dominate more domain services rather than just mobile services. I wouldn't be surprised if TC gets bought out years from now but for now it's too pricey.
He makes some good points, especially regarding the ownership of infrastructure.  Although they don't (and won't) own any cell towers, they will own the fiber optic networks which I honestly think is more valuable as WiFi is slowly becoming our primary communication medium.
I'm not invested in them yet, and I may not invest in them because I have recently found some potentially better alternatives (likely to be discussed in future emails), but I thought I should keep you guys informed on my research.  In some ways they are riskier than Shopify (they aren't the leader in their industry), but in other ways they're less risky (consistent income).  What remains to be seen is if they can maintain their quality customer service as they grow.  Regardless, I'm willing to cheer on the underdog.
Best Regards,
Zach
"We make a living by what we get.  We make a life by what we give."
July 2018 Update: After further research (and listening to a quarterly call), I discovered that Elliot Noss is in fact a Warren Buffett follower, automatically converting me into a huge fan.  Revenue from Ting Internet should start generating in 2019.  For more info, check out my Mid-August 2018 Update.
---
Not sure Tucows has what it takes?
I partnered with InvestorsFriend because many of my readers just wanted a professional to suggest EXACTLY what to invest in.
InvestorsFriend has a 18-year track record of materially outperforming the index.  Shawn Allen has the credentials and expertise to provide clear buy/sell recommendations.
Interest you?  Join here.