Restaurant Brands QSR
Restaurant Brands International Inc.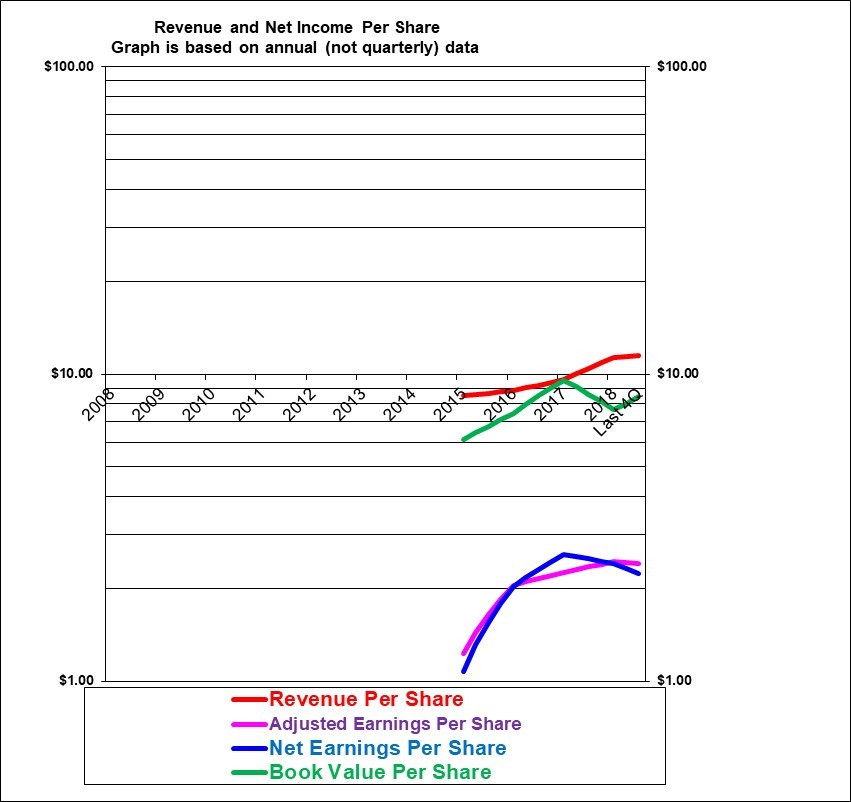 We have only a few years graphed because Restaurant Brands was only formed in late 2014. For stock trading purposes, Burger King is a predecessor company and we could have added that history to the graph. But we are much more interested in how it has done since Burger King and Tim Hortons came together as Restaurant Brands.
Revenue per share grew modestly in 2016 and 2017. The sharper increase in 2018 was almost entirely caused by a major change in the way current and previously collected initial franchise fees come into revenue and that sharper increase is not representative of the trend. Revenue per share growth in the latest quarter was 5% and in Q1 was 2.5%.
Adjusted earnings per share rose rapidly in 2016 for reasons that we have not looked into but 2016 was only the second year of the company. The increase in 2017 and 2018 was about 8% per year. But this was impacted by a large number of adjustments which makes the actual trend harder to pin down. Adjusted earnings per share in the most recent two quarters was 7% (Q2) and 3%. 
Restaurant Brands International Inc. (QSR, New York and Toronto)

RESEARCH SUMMARY

Report Author(s):

InvestorsFriend Inc. Analyst(s)

Author(s)' disclosure of share ownership:

 The Author(s) hold no shares

Based on financials from:

2018 + Q2 '19

Last updated:

August 3, 2019

Share Price At Date of Last Update:

 $                             77.22

Currency:

$ U.S.

Generic Rating (This rating does not consider the circumstances of any individual investor and is therefore not specific advice for any individual):

Weak Buy / Hold at U.S. $77.22 and CAN $102.01

Has Wonderful Economics?

Yes

Has Excellent and Trustworthy Management?

Yes although ruthless

Likely to grow earnings per share at an attractive rate over the next decade?

Yes

Valuation?

Expensive

SUMMARY AND RATING: We have only a few years of history on our graph because RBI was only formed in late 2014. The graph of revenues per share (red line) shows  relatively modest growth except for the strong growth in 2018 which however is was almost entirely due to a big change in accounting rules for initial franchise fee revenue. Adjusted earnings per share growth was good but unspectacular in 2017 and 2018 but was subject to quite a few adjustments which make the growth rate less reliable. The Value ratios in isolation would indicate a Weak Sell rating due to the high P/E ratio combined with the fact that the recent growth rate does not seem to be high but tempered by the high ROE and improved growth in the latest quarter. Management quality appears to be quite strong although they have a reputation of being quite ruthless and have in the past had very poor relations with a large group of Tim Hortons franchise owners.  The company does well on the Buffett criteria except for its high debt and its relatively high valuation. The insider trading signal is moderately negative. Executive compensation is higher than we would like but is not a big concern. The outlook based on same-store sales growth and the growth in the number of locations does not appear to be for growth of more than 8 to 10%. The economics of the business are strong with reliable recurring cash flows. It has competitive advantages in terms of its market position and brand awareness. The balance sheet is somewhat weak with high debt but the cashflows appear to be sufficient to sustain the debt. Overall given the high P/e ratio but also given the strength of its three brands and given the propensity of the market to value so many companies at high P/E ratios, we will rate this Weak Buy / Hold.  For new investors we would suggest taking only a small position at this time with a view to re-evaluating over time.

LONG TERM VALUE CREATION: The company documents that in the five years ending December 2018 total shareholder return was 129% which is strong value creation. This includes 2013 when it traded as Burger King prior to acquiring Tim Hortons. The value creation in terms of accounting income is difficult to interpret due to the way that part of the equity is treated as minority interest but appears to be modest.

DESCRIPTION OF BUSINESS: Restaurant Brands International Inc. (RBI) is a holding company that was formed in 2014 to purchase (though leveraged buyouts) Burger King and Tim Hortons and it later purchased Popeyes. As a result of the purchases, RBI's balance sheet assets consist largely of purchased goodwill and similar intangibles and it is financed largely with debt rather than equity. RBI was formed by 3G Capital a Brazilian-American investment firm that also was behind the leveraged buyouts of Heinz and then Kraft and which has ties to Warren Buffett. Despite being publicly traded, RBI has many of the characteristics of a private-equity company. RBI is a Canadian company in form but is more of an America company in substance. It has over $30 billion in system-wide sales and almost 26,000 franchised locations and 6000 employees. For all three brands it earns revenue from ongoing franchise royalties as well as initial franchise license fees and from land/building rents in cases where it owns the land/building (which is very much the case at Tim Hortons and to small degree the case at Burger King). In the case of Tim Hortons it also earns significant revenue and profit as the wholesaler of coffee, baked goods and other supplies. As of the end of 2018, system-wide sales at the restaurants are 67% Burger King, 21% Tim Hortons and 12% Popeyes. The breakdown by number of locations is quite similar at 69%, 19% and 12% respectively. However, due to selling supplies to Tim Hortons franchisees and because RBI owns most of the Tim Horton land and buildings and charges rent, the segmented income is 51% from Tim Hortons, 42% from Burger King and 8% from Popeyes. Geographically, 56% of revenues are from Canada, 33% for the USA and the remaining 11% is spread across about 100 other countries.

ECONOMICS OF THE BUSINESS: With a 28% ROE and with the reliable recurring nature of the revenues and profits, the economics of the business appear quite good. However, it should be noted that is achieved in part by a heavy use of debt leverage. To a good extent, RBI is in a position to license its brand names internationally and receive cash with little investment.

RISKS: Refer to the annual report for a more complete list. In our view the most relevant risk would be a major product safety scare that would drive customers away at least temporarily. Another risk is that the brands may not succeed in some international markets leading to lost investment. For example Tim Hortons may struggle in international markets due to low familiarity with that brand in most of the world.

INSIDER TRADING / INSIDER HOLDING: Checking from December 1, 2018 to August 3, 2019: Six executives including the CEO and the executive chairman (former CEO) sold large amounts of shares while in most cases retaining very large positions. This was after exercising large option positions. The sales were from about U.S. $62 to $68. They also are buying smaller amounts under a regular plan and are receiving restricted shares. While insider selling is not unusual especially when they receive generous amounts of options, I would still see this selling as at least a moderately negative signal. However, insiders do retain large positions which is a positive indicator.

WARREN BUFFETT's CRITERIA: Buffett indicates that all investments must pass four key tests: the business is  simple to understand and predict (pass), has favorable long-term economics due to cost advantages or superior brand power (pass given brand power and scale), apparently able and trustworthy management (pass), a sensible price – below its intrinsic value (marginal pass at best given high P/E), Other criteria that have been attributed to Buffett include: a low  debt ratio (fail), good recent profit history (pass) little chance of permanent loss of the investors capital (pass) a low level of maintenance type capital spending required to maintain existing operations excluding growth (pass)

MOST RECENT EARNINGS AND SALES TREND: Reported revenues per share were up by 18% in 2018. However this was largely due to a major change in accounting for initial franchise fees. Adjusted for the change revenues per share were up only 1.5% in 2018. Revenues per share were up 5.4% in Q2 2019 and 2.5% in Q1 2019. Adjusted earnings per share (and there were a lot of adjustments which makes the comparison less reliable) were down 7% in 2018. Adjusted earnings per share in Q2 2019 were up 6.9% and in Q1 2019 were up 3%. Adjusted EBITDA was up 3% in 2018 and 14% in 2017 and up 3% in Q2 2019 and  about unchanged in Q1 2019. Overall, the recent earnings and revenue growth has been low but was strong in the latest quarter.

COMPARABLE STORE SALES  OR INDUSTRY SPECIFIC STATISTICS: Same-store sales at Tim Hortons up 0.5% in Q2 2019 and down 0.6% in Q1 2019 and up 0.6% in 2018 and down 0.1% in 2017. Burger King same-store sales were up 3.6% in Q2 2019 and  up 2.2% in Q1 2019, up 2.0% in 2018 and up 3.1% in 2017. Popeyes were up 3.0% in Q2 2019 and up 0.6% in Q1 and up 1.6% in 2018 and down 1.5% in 2017. Weighted by segment income, same store sales growth in 2018 was 1.3% and in 2017 was 1.2%. Overall, same-store sales growth is poor at Tim Hortons, "okay" (but good in the latest quarter) at Burger King and weak at Popeyes (but good in the latest quarter) and weak on a weighted basis. Year over year growth in the number of locations at Tim Hortons was 1.6% in Q2, 1.9% in Q1 '19, 2.1% in 2018 and 2.9% in 2017. Location growth at Burger King was 5.8% in Q2 and 5.7% in Q1 2019, 6.1% in 2018 and 6.5% in 2017. Location growth at Popeyes was 6.1% in Q2 2019 and 6.6% in Q1 2019, 5.5% in 2018 and 5.8% in 2017. Location growth is modest but positive at Tim Hortons and strong at the other two brands. Overall location growth was 5.5% in 2018 and 5.8% in 2017. But weighted by segment income it was 4.2% in 2018. The main driver of revenue growth has been growth in the number of locations at Burger King and Popeyes as opposed to same-store sales growth but same store growth contributed strongly in the latest quarter.

Earnings Growth Scenario and Justifiable P/E: With a trailing P/E of 32, the stock is "pricing in" fairly high growth in excess of 10% annually or that the P/E will remain fairly elevated.

VALUE RATIOS: The price to book value ratio is perhaps meaningless for this asset-light company but is ostensibly unattractive at 9.2. The P/E ratio is unattractively high at 32 (it is basically pricing in a lot of growth). The return on equity is very strong at 28% and that is despite the fact that the company paid a high premium to original book in purchasing its three brands. As noted in more detail below, the recent growth in earnings and revenue per share has been fairly modest but picked up strongly in the latest quarter. Overall the value ratios in isolation would support a rating of Weak Sell due to the high P/E ratio and but tempered by the attractive ROE and the growth in the latest quarter.

SUPPORTING RESEARCH AND ANALYSIS

 

Symbol and Exchange:

Restaurant Brands International Inc.

Currency:

$ U.S.

Contact:

investor@rbi.com

Web-site:

www.rbi.com

INCOME AND PRICE / EARNINGS RATIO ANALYSIS

 

Latest four quarters annual sales $ millions:

$5,426.0

Latest four quarters annual earnings $ millions:

$1,054.0

P/E ratio based on latest four quarters earnings:

34.5

Latest four quarters annual earnings, adjusted, $ millions:

$1,137.0

BASIS OR SOURCE OF ADJUSTED EARNINGS: Adjusted for items identified by management. Also we adjusted for abnormally low tax rate in Q1 2018.

Quality of Earnings Measurement and Persistence: Earnings measurement has been affected by major accounting changes in the past two years. But the earnings and cashflow are reliable and persistent and growing.

P/E ratio based on latest four quarters earnings, adjusted

32.0

Latest fiscal year annual earnings:

$1,144.0

P/E ratio based on latest fiscal year earnings:

31.8

Fiscal earnings adjusted:

$1,161.0

P/E ratio for fiscal earnings adjusted:

31.3

Latest four quarters profit as percent of sales

21.0%

Dividend Yield:

2.6%

Price / Sales Ratio

6.70

BALANCE SHEET ITEMS

 

Price to (diluted) book value ratio:

9.15

Balance Sheet: With the shares trading at over 9 times book value (as of July 24, 2019) the shares are clearly valued for their earnings as opposed to assets but the composition of the balance sheet may be of interest nevertheless. A huge 75% of the assets represents purchased goodwill and equivalent intangibles (brand value). 9% consists of property and equipment (largely land and buildings much of which is leased to franchisees and also equipment and some capital leases). 4% consists of operating leases which is a deemed asset and is approximately offset by the deemed liability for the lease payments. 4% is cash, 3% is accounts receivable and 3% is other assets which are largely deferred tax assets. The assets are financed as follows: 57% by debt, 18% by owner's equity, 7% by deferred income taxes, 6% by lease liabilities, 7% by other liabilities and 6% accounts payable and accrued liabilities.

Quality of Net Assets (Book Equity Value) Measurement: With the shares treading at over nine times book value (as of July 25, 2019) the quality of the assets is not a concern. It is the quality and growth of income and cash flows that drive the share price.

Number of Diluted common shares in millions:

                                469.0

Controlling Shareholder: 3G Capital (the Brazilian-American investment company which Warren Buffett has been associated with) owns 43% of the voting interest and effectively controls the company.

Market Equity Capitalization (Value) $ millions:

$36,216.2

Percentage of assets supported by common equity: (remainder is debt or other liabilities)

18.2%

Interest-bearing debt as a percentage of common equity

299%

Current assets / current liabilities:

1.2

Liquidity and capital structure: (Updated Q1 2019) RBI has sufficient cash ($913 million or just short of $2 per share). And it has strong and reliable recurring cash flow even after paying interest on its debt. But it is highly leveraged as with debt at 3.1 times the book value amount of equity (though only 0.35 times the market value of the equity). Reflecting its high debt leverage the credit rating was recently raised from B plus  to BB minus which is still two notches below investment grade. Overall, the liquidity is adequate but the balance sheet has to be considered somewhat weak due to the debt. The company indicates that the net leverage ratio is 5.0 times which is high.

RETURN ON EQUITY AND ON MARKET VALUE

 

Latest four quarters adjusted (if applicable) net income return on average equity:

27.8%

Latest fiscal year adjusted (if applicable) net income return on average equity:

28.4%

Adjusted (if applicable) latest four quarters return on market capitalization:

3.1%

GROWTH RATIOS, OUTLOOK and CALCULATED INTRINSIC VALUE PER SHARE

 

X years compounded growth in sales/share

not available

Volatility of sales growth per share:

 Steady Growth

X Years compounded growth in earnings/share

not available

X years compounded growth in adjusted earnings per share

not available

Volatility of earnings growth:

 Steady Growth

Projected current year earnings $millions:

not available

Management projected price to earnings ratio:

not available

Over the last ten years, has this been a truly excellent company exhibiting strong and steady growth in revenues per share and in earnings per share?

Yes

Expected growth in EPS based on adjusted fiscal Return on equity times percent of earnings retained:

5.0%

More conservative estimate of compounded growth in earnings per share over the forecast period:

8.0%

More optimistic estimate of compounded growth in earnings per share over the forecast period:

10.0%

OUTLOOK FOR BUSINESS: Growth will be driven by same store sales growth, growth in the number of locations and efficiencies. Same-store sales growth has been modest (but was stronger in the latest quarter) and it seems prudent to assume no more than about 2% to 3% growth going forward. Growth in the number of locations has been about 4 to 5% in the past two years. RBI has plans for international expansion especially for Tim Hortons and Popeyes. RBI just announced that it has a partner that plans to open 1500 Popeyes in China over ten years. At 150 per year that would add another 0.6% to RBI's restaurant count. Overall, it would seem aggressive to assume that earnings per share growth will be more than high single digits but it could be more with international expansion.

LONG TERM PREDICTABILITY: It seems reasonable to assume that Restaurant Brands will continue to grow based on its three existing brands and possible future acquisition

Estimated present value per share: We calculate  $55 if adjusted earnings per share grow for 5 years at the more conservative rate of 8% and the shares can then be sold at a P/E of 18 and $79 if adjusted earnings per share grow at the more optimistic rate of 10% for 5 years and the shares can then be sold at a P/E of 25. Both estimates use a 7.0% required rate of return.

ADDITIONAL COMMENTS

 

INDUSTRY ATTRACTIVENESS: (These comments reflect the industry and the company's particular incumbent position within that industry segment.) Michael Porter of Harvard argues that an attractive industry is one where firms are somewhat protected from competition based on the following four tests. Barriers to entry (Pass, as building a new chain required significant investment). No issues with powerful suppliers (Pass, while they may have some fairly dominate suppliers they are likely in a position to switch suppliers if needed). No issues with dependence on powerful customers (pass), No potential for substitute products (Pass, customers could substitute away from the fast food category but that seems quite unlikely) No tendency to compete ruinously on price (Marginal Pass – there is usually somewhat intense competition for the cheapest menu items but there are also premium items where the chains do not tend to compete that fiercely). Overall this industry appears to be attractive for an established incumbent such as RBI.

COMPETITIVE ADVANTAGE: Tim Hortons enjoys clear competitive advantages based on its established dominant position and brand in Canada. It is not clear that it has much in the way of competitive advantage in other countries but they believe that "Canada" as a brand will be popular internationally. However, for all three brand competition may be less intense in many emerging markets. Burger King is not the dominant "hamburger" chain but does possess brand advantages over smaller competitors and is well known in most of the world. Popeyes also has brand awareness and its appeal may be as more of a niche alternative to the larger fast food chains.

COMPETITIVE POSITION: Tim Hortons is the largest fast food chain in Canada and dominates the coffee category. Burger King is the number two burger chain in the U.S. Popeyes is a niche player.

RECENT EVENTS: Tim Hortons has introduced a rewards card which has been well received, In July 2019 they signed an agreement with a company that plans to open 1500 Popeyes in China over ten years, In June 2019 Tim Hortons announced  an initiative to expand into Thailand.  In May they announced Popeyes will expand into Spain. In August 2018 they announced Popeyes will expand into the Philippines. Menu and new product changes are ongoing.

ACCOUNTING AND DISCLOSURE ISSUES: There were a number major accounting changes that make comparisons of year over year growth difficult. Starting in 2018 there was a major change in the way initial franchise fees are accounted for. This led to a large revenue gain in 2018. It also led to a basically a write-off of past retained earnings and increased reported earnings going forward. Starting in 2019 there was a change to lease accounting which increased assets and liabilities but the impact on earnings is apparently minor. Overall, the disclosure of adjusted or comparable net earnings in 2018 seemed like poor disclosure but this has improved in 2019. The required treatment of stock based compensation and the exercise of options and rights options has resulted in huge swings in the income tax rate. Part of the ownership is represented by exchangeable units is presented as minority interest which is confusing but we were able to adjust for that by treating it as part of the common equity.

COMMON SHARE STRUCTURE USED: Technically there are commons shares and exchangeable units. But both are essentially treated as common shares by the company and in our analysis.

MANAGEMENT QUALITY: Probably good. But they are known to be ruthless and at times have had a very combative relationship with Tim Hortons' franchisees.

Capital Allocation Skills: To date, management's investments in buying and expanding its three brands has been well rewarded by the market indicating hat this allocation of capital was wise.

EXECUTIVE COMPENSATION: (Updated July 2018). Executive compensation in 2018 was quite generous with the three top officers earning $14 million, $15 million and $19 million. Stock awards compensation may have been unusually high as these executives earned far less in the prior year. Overall, this compensation is higher than we would like to see but is probably not a concern given the size and profitability of the company.

BOARD OF DIRECTORS: Warren Buffett has suggested that ideal Board members be owner-oriented, business-savvy, interested and financially independent. RBI's Board members appear to be well qualified with a mix of investment and relevant business backgrounds.

Basis and Limitations of Analysis: The following applies to all the companies rated. Conclusions are based largely on achieved earnings, balance sheet strength, achieved earnings per share growth trend and industry attractiveness. We undertake a relatively detailed  analysis of the published financial statements including growth per share trends and our general view of the industry attractiveness and the company's growth prospects. Despite this diligence our analysis is subject to limitations including the following examples. We have not met with management or discussed the long term earnings growth prospects with management. We have not reviewed all press releases. We typically have no special expertise or knowledge of the industry.

DISCLAIMER: All stock ratings presented are "generic" in nature and do not take into account the unique circumstances and risk tolerance and risk capacity of any individual. The information presented is not a recommendation for any individual to buy or sell any security. The authors are not registered investment advisors and the information presented is not to be considered investment advice to any individual. The reader should consult a registered investment advisor or registered dealer prior to making any investment decision. For ease of writing style the newsletter and articles are often written in the first person. But, legally speaking, all information and opinions are provided by InvestorsFriend Inc. and not by the authors as individuals. The author(s) of this report may have a position, as disclosed in each report. The authors' positions may subsequently change without notice.

© Copyright:  InvestorsFriend Inc. 1999 – 2019.  All rights to format and content are reserved.
ss