Newsletter July 26, 2009
InvestorsFriend Inc. Newsletter July 26, 2009
Many people think that making money in stocks is all about "timing the market". They think it is all about guessing when the market will fall and when it will rise.
In reality the key is not timing the market but rather "time in the market"
An investment that has been in the market for 2 years may not have made any money. But an investment that has been in the market for 20 years, almost certainly has made money.
I looked at my own investments and graphed my actual returns over the years.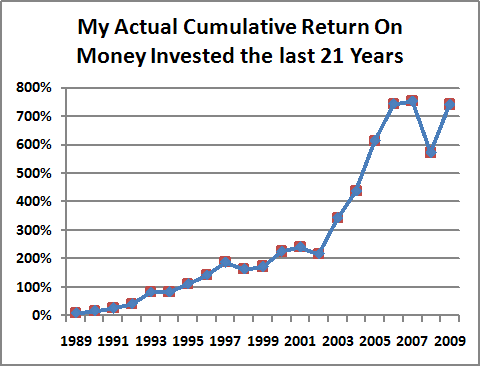 The graph shows that money I had invested at the start of 1989 grew modestly at first, but it had slightly more than doubled seven years later at the end of 1995. Despite a decline in 1998, it had more than tripled by 2000. By the end of 2007 my investments from the start of 1989 were up by 750%. I then suffered a noticeable loss in 2008 but this has been almost fully recovered in 2009.
Looking at this graph there are periods of a year or two with negative growth. But over all longer periods the growth has been substantial.
The average compounded annual return over this 21 year period was 13.9% per year. That may sound good but not spectacular. Yet it was enough to grow my investment by 740% in 21 years.
On this graph it looks like the big returns were made from 2003 to 2007. But that is simply because with compounding there was more money at work in those years.
Here is the same data on a logarithmic scale.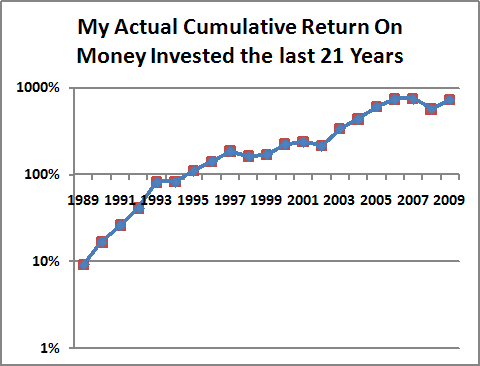 On a logarithmic scale a constant percentage growth plots as a straight line.
On this graph we can see that my best percentage returns came in the first five years.
The point of both of these graphs is to illustrate an actual example of how money can grow over the years.
Performance
In 2009 to date my return has been up 25%, our Stock Picks have gained an average 18% and the TSX market is up 19%
Since the start of 2008, the TSX market index  is down 23%. Meanwhile my own return has been minus 1% and our Stock Picks are down an average 22%.
Since the start of 2000, the TSX is up only 27% while my own return has beeen 206% and our Stocks Picks are up an average of 218%.
We have beaten the market every year except one since 2000 and overall we have totally walloped the market
We make no guarantees of beating the market in future but we do have a great track record.
An Investment Fund
I met (on July 21) in Toronto with a successful  investment professional whom I have known for about 8 years.
A former broker and stock analyst for Sprott Securities and others, he has now started his own small investment fund in the form of  a limited partnership structure.
His fund specializes in value-oriented investments. Often smaller companies with high profitability but low P/E ratios. No start-up type companies. The early track record on this new fund is quite strong. He describes this as an aggressive growth fund.
This investment fund is not suitable for the average retail investor because of the following criteria which must be met:
1. This is not set up for RRSP / RESP investments, therefore this is only for taxable investment accounts.
2. Investors must be accredited meaning that they have either in excess of $1 million in financial assets (which can be together with a spouse) or personally have an annual income of greater than $200,000 or an income together with their spouse of greater than $300,000 per year.
3. Minimum investment is $50,000.
So… this is certainly not for everyone. However if you are in a position to meet the criteria and you are looking for this type of small investment fund as an Alternative Investment, then you can see more information here:
https://donvillekent.com/
Update: DonvilleKent informed me the morning of July 27, that this fund is now up 50% year-to-date.
I have occasionally toyed with the thought of establishing an investment fund of my own. However, the regulatory requirements are very onerous and for that reason and others, I have no plans to establish an investment fund, at least not in the next five years (and quite possibly never). Also most of you are do-it-yourselfers who may have little interest in funds of any kind. You like to pick your own stocks with some help from services like this one and perhaps other stock "newsletter" services. But some of you may wish to make some use of investment funds. The best I can do in that regard is to point people in the direction of certain funds where the stock selection style is compatible with the approach at InvestorsFriend inc. and where I judge the fund managers to be trustworthy.
However, if you happen to be interested in this Alternative Investment Fund described above, check it out at
https://donvillekent.com/
This company has indicated that it may compensate InvestorsFriend Inc. in some way for referrals. I did not ask the details of that at this stage. Any investments would occur directly into the fund and InvestorsFriend Inc. would not be involved with that process.
END
Shawn Allen, President
InvestorsFriend Inc.
To see older editions of this newsletter, or to get off of this email list , click here.