Stantec Inc. Stock Report
Stantec Inc.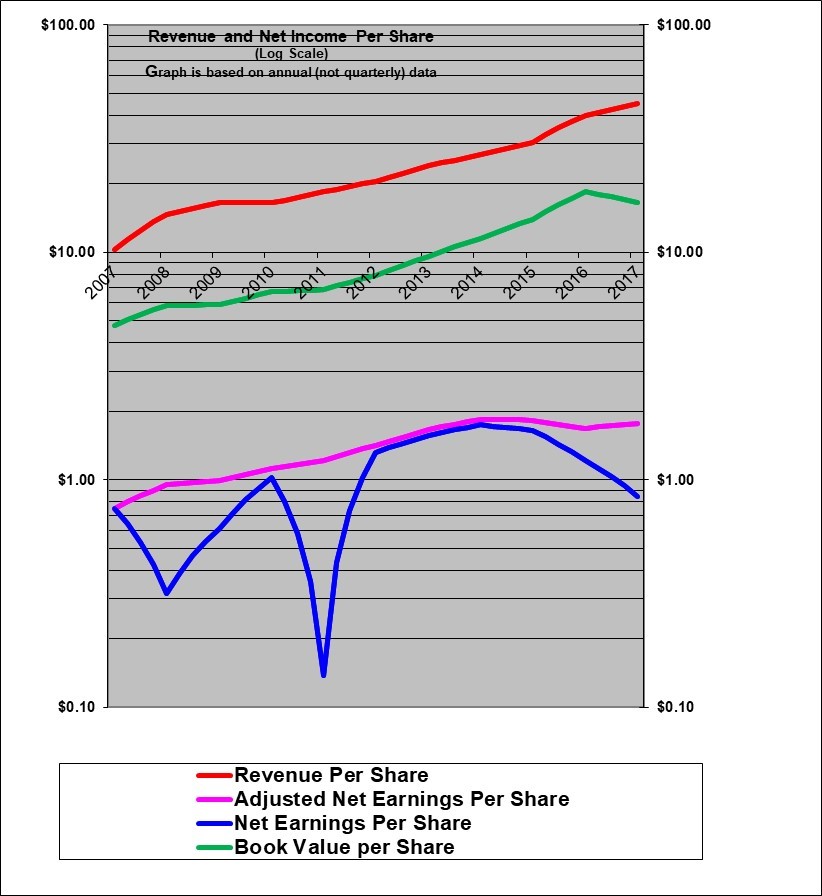 The graph of Stantec's revenue per share (red line) and (adjusted) earnings per share (purple line) shows very strong and steady growth until the 2015 flat year for earnings per share and 2016 decline caused by a significant weakness that its commodity-sector customers in Canada were facing and by recent acquisition-related expenses. That weakness has only been partially recovered and/or offset by other growth in 2017 due to some project cost over-runs that are not expected to continue into 2018. The plunges in the GAAP earnings line in 2008 and 2011 were caused by write-offs of goodwill. Those write-offs appear to have been proven "false" by the subsequent earnings growth.
The 2016 increase in the book value per share was due to issuing shares at a price well above book value and should not be taken as a positive indicator. The decline in book value per share in 2017 was due to the higher Canadian dollar.
Stantec Inc. (STN, Toronto and New York)
RESEARCH SUMMARY
Report Author(s):
InvestorsFriend Inc. Analyst(s)
Author(s)' disclosure of share ownership:
 Author(s) hold shares
Based on financials from:
Dec '17 Y.E.
Last updated:
03-Mar-18
Share Price At Date of Last Update:
 $                             32.22
Currency:
$ Canadian
Generic Rating (This rating does not consider the circumstances of any individual investor and is therefore not specific advice for any individual):
Buy rated at CAN $32.22
SUMMARY AND RATING: This cell of the report summarizes information from the cells below. Looking at the graph, (and focusing on adjusted earnings) Stantec qualifies as a great company. Earnings per share have grown strongly and relatively steadily despite being in a cyclic industry – and despite an earnings decline in 2016. It appears to have strong predictability and achievement of strong growth. The  Value ratios at this time  would support only a (lower) Buy rating due to relatively weaker profitability in 2016 and 2017. Stantec has quite good industry characteristics and economics and does well on Buffett's tenets. Management of Stantec has been excellent. The long-term outlook seems good as the company continues to target growing revenues by 15% annually by continuing its growth-by-acquisition (and organic) approach. However it suffered an earnings decline  in 2016 due to the oil and gas and commodity industry slow down though this has been partly offset by increased growth in other areas.  And it has stumbled somewhat in its integration a recent very large acquisition with project cost overruns that it believes are temporary. he most recent earnings trend has now turned sharply positive.  Earnings would have declined further in 2016 if not for a large benefit from the then lower Canadian dollar. Earnings could rebound relatively sharply in 2018 as it puts certain project difficulties from 2017 behind it and begins to benefit more from the large acquisition in made in 2016. The insider trading signal is neutral. Intrinsic value based on the trailing adjusted earnings is calculated as $28 to $35 based on growth 7.5% to 10% and a lower terminal P/E of 14 to 16. Overall we rate Stantec a Buy. It's an excellent business with strong long-term growth prospects ran by able and trustworthy management (assuming that the incoming CEO performs like his predecessors). Given recent stumbles, Stantec has become more risky. It could rebound, but if the problems persist with the Q1 report – which we don't expect – then the stock will likely decline.
DESCRIPTION OF BUSINESS: (Updated March 2018) A now global professional consulting services consulting firm in engineering, architecture and related. Operates primarily on a fee for consulting service basis and more recently through a major acquisition with some construction-at-risk services. Notably it does take cost over-run risks on a significant number of its contracts. Has about 22,000 employees (Q4 '17) operating out of about 400 locations  in North America and globally (primarily the U.K, Australia and New Zealand but also South and central America, Europe and the Middle East). Head office, in Edmonton integrates the far-flung offices through centralized computer and finance systems. We are not clear as the extent that the individual offices operate independently versus controlled more centrally.  In 2017, 57% of revenues were from the U.S., 23% from Canada, 10% from the U.K.,  and 9% other international. For many years, Stantec has very successfully pursued a business model of growth by acquisition (plus organic growth). Consulting services represent 78% of revenue and construction services represents 22%. It provides consulting services over the full life cycle of projects, planning, design, construction, maintenance and decommissioning. Stantec believes that its work advances the quality of life in communities across the globe.
ECONOMICS OF THE BUSINESS: The economics of the business have historically been very  good. It is employee intensive and not capital intensive. The majority of its assets consist of purchased goodwill (and the equivalent) at about 51% of assets and investments in working capital for work completed but not yet paid for,  which is about 32% of assets. The net profit on sales was recently about 4% (having declined due the weak commodity sector in Canada). The ROE is calculated as 10% which is lower than its historic levels.  While it does face competition it appears to have significant customer loyalty. This is likely due to the fact that selecting the cheapest  consulting engineering firm for a major project would be a false economy for its clients.  Its economics include high operating leverage in that a small change in the percentage of professional  hours which are billable or a small percentage decline in admin and marketing costs can lead to a large change in profits. With a gross margin of about 55% it appears that it marks up the total compensation costs of its professionals by about 80%.
RISKS: Tends to be cyclic with sales related to industrial activity including oil and gas related and to commercial and residential building and to government infrastructure spending. Engineering design involves risks that are difficult or impossible to quantify in advance and therefore may not be entirely covered by insurance. Accounts Receivable are relatively high, (which they indicate is normal in this industry) and represent a risk of loss. There is a risk that if operating costs such as wages increased only moderately, there could be a much larger impact on profits compared to most companies. But the company may have an ability to control this through adjusting bonus pay which is a significant percentage of the pay-roll and also by reducing headcount if needed.  Recently the company seemed to mention competitive pricing pressures much more prominently than in the past. With the large MWH acquisition it now takes on some construction cost risk. See also annual report for more risks.
INSIDER TRADING / INSIDER HOLDING: (Based on October 1, 2017 to March 2, 2018).  Some directors are buying shares with their director compensation  – this not like an independent buy as it tends to be done without regard to the share price. Three insiders sold shares mostly at about $35 (in one case $32) after exercising options. An executive V.P. bought 3100 shares at just over $32 on February 27 and March 2. An executive sold 20,000 shares at $35 in December and January. Overall, the insider trading signal is about neutral. Several trades were indicated to have taken place in January which is normally a blackout period.
WARREN BUFFETT's CRITERIA: Buffett indicates that all investments must pass four key tests: the business is  simple to understand and therefore its earnings are predictable (marginal pass, it has far-flung operations, the business seems relatively simple but has gotten more complex with the May 2016 large acquisition of MWH) Has favorable long-term economics due to cost advantages or superior brand power (marginal pass due to scale and reputation offset by the presence of many competitors), apparently able and trustworthy management (pass based on track record), a sensible price – below its intrinsic value (marginal pass), Other criteria that Buffett appears to use include: a low  debt ratio (pass with debt at only 39% of book equity),  proven profit history (pass) little chance of permanent loss of the investors capital (marginal pass due to large goodwill) a low level of maintenance type capital spending required to maintain existing operations excluding growth (pass).
MOST RECENT EARNINGS TREND:  In Q4 earnings were weak due to cost over runs. It was a bit disturbing that management called these legacy projects and appears to place the blame on others. In the 2017 annual report there are many mentions of pricing pressure. In the four most recent quarters starting with the most recent (Q4, 2017), adjusted earnings per share (as reported by management) fell 8% (due to some cost over-runs) rose 1%, rose 37%, and were unchanged and revenue per share was flat, rose 3%, rose 18%, and rose 39%. Overall the recent trend for revenue per share is mixed as the latest two quarters were weak while Q2 2017 was very strong. In 2017 overall, adjusted earnings per share were up 5% and revenues per share up 12%. Organic growth was slightly positive in 2017.  In 2016 organic gross revenue declined 5.6%. Revenues related to oil and gas turned sharply lower in 2015 declining to 15% of revenue from 25%. Earnings per share were down in 2016 mostly due to a sharp downturn in commodity-related sectors especially in Canada. 2016 revenues per share were up 32% due to acquisitions but adjusted earnings per share were down 8% due to organic retraction and due to acquisition costs. 2015 revenues per share were up 13% but adjusted earnings per share were down 1%. 2014 revenues per share were up 12% and adjusted earnings per share were up 11%. 2013 revenues per share were up 17% and adjusted earnings per share were up 17%.
INDUSTRY SPECIFIC STATISTICS:
Earnings Growth Scenario and Justifiable P/E: This stock with a 1.7 yield (31% earnings payout ratio) can justify a P/E of about 25 if earnings are assumed to grow at 10%. This is based on the investor earning 7.0%.
VALUE AND GROWTH RATIOS: Analysed at a price of CAN $32.22 and U.S. $25.05. The price to book value ratio does not seem excessive at 1.95. But this may not have much meaning given that this is not an asset intensive business. And, there is very substantial purchased  goodwill on the books and so investors are paying for intangibles here and earnings power not hard assets.  The  adjusted P/E, in isolation is neutral in attractiveness at best at 18.2. Adjusted Return on Equity is good at 10.4% and has been depressed by the slow-down in its commodity-related customer segments and by some cost over runs in Q4. The dividend yield is modest at 1.7% (the payout ratio is 31% of trailing adjusted earnings). Five calendar year compounded growth in adjusted earnings per share is weak at 4.5%. 5 year compounded growth in revenues per share is excellent at 17% having been boosted by the very large acquisition in 2016. Calculated intrinsic value per share, based on earnings growth is calculated as $28 to $35 using a  five year assumed annual average growth rate of 7% to 10% (which could be quite conservative considering the history and considering management's goal of 15% growth and considering that earnings may be in a cyclic trough) and assuming the P/E at 14 in the first scenario or 16 in the higher scenario. This implies a Price to Value Ratio of from 115% (15% over-valued) to 91% (9% under-valued), respectively. Higher intrinsic values can be calculated if one assumes a higher terminal P/E. These ratios would support a rating of (lower) Buy.
SUPPORTING RESEARCH AND ANALYSIS
 
Symbol and Exchange:
STN, Toronto
Currency:
$ Canadian
Contact:
ir@stantec.com
Web-site:
www.stantec.com
INCOME AND PRICE / EARNINGS RATIO ANALYSIS
 
Latest four quarters annual sales $ millions:
$5,140.2
Latest four quarters annual earnings $ millions:
$97.0
P/E ratio based on latest four quarters earnings:
38.0
Latest four quarters annual earnings, adjusted, $ millions:
$202.0
BASIS OR SOURCE OF ADJUSTED EARNINGS: Added back goodwill write downs in 2008, 2009 and 2011. Added back an unusual income tax amount of $6.2 million in  2010,  added back $1.8 million pre-tax unusual loss in  2010 deducted a gain on sale in 2010. Added back the amortization of goodwill-like contract backlog and customer lists starting 2010. Management also started providing adjusted earnings in 2016 and also adds back this amortization.
Quality of Earnings Measurement and Persistence: Probably reliable, no issues with large estimated items such as depreciation.  The company has (through 2017) been profitable for 64 straight years since inception! Earnings have risen persistently through acquisitions and organic growth. However earnings do tend to be cyclical to some degree and declined in 2016.
P/E ratio based on latest four quarters earnings, adjusted
18.2
Latest fiscal year annual earnings:
$97.0
P/E ratio based on latest fiscal year earnings:
38.0
Fiscal earnings adjusted:
$202.0
P/E ratio for fiscal earnings adjusted:
18.2
Latest four quarters profit as percent of sales
3.9%
Dividend Yield:
1.7%
Price / Sales Ratio
0.72
BALANCE SHEET ITEMS
 
Price to (diluted) book value ratio:
                                        1.95
Balance Sheet: (It's always good to understand what share owners get for their money in terms of assets and liabilities.) As of Q4, 2016, Assets are comprised as follows: 6% cash, 35% other working capital (largely trade receivables and unbilled revenue), 47% goodwill and equivalent, 7% property and equipment and software, 4% investments held for self insurance purposes,  1% other assets. The 10.4% ROE suggests that the assets including the goodwill have good value . On the other side of the balance sheet these assets are supported as follows: 25% by current working capital liabilities, 19% by debt, 1% by deferred tax liabilities, 2% by provisions for external legal claims, 1% pension liability  2% other liabilities (mostly lease inducement benefits and also share compensation payable) and 49% by common equity. Assuming that the goodwill and intangibles are not over-valued, this is a strong balance sheet with a relatively modest debt level. But note that the assets are mostly the purchased goodwill and intangible earnings power of its numerous acquisitions.
Quality of Net Assets and Book Value Measurement: The value of the assets is not particularly important because this company is valued for its earnings and if earnings were to evaporate, the assets would provide little protection. The assets are mostly purchased goodwill and working capital. The relatively high ROE suggests that the assets have excellent value. Past write-offs of goodwill appear to have been driven by declines (that proved temporary) in market prices of Stantec shares and similar companies and do not appear to suggest that the future earnings would not have supported the goodwill. In summary, the book value per share is solid.
Number of Diluted common shares in millions:
                                114.5
Controlling Shareholder: It appears that no one owns more than 10%
Market Equity Capitalization (Value) $ millions:
$3,689.2
Percentage of assets supported by common equity: (remainder is debt or other liabilities)
48.9%
Interest-bearing debt as a percentage of common equity
39%
Current assets / current liabilities:
1.4
Liquidity and capital structure: The debt level was recently about 39% of the book equity amount. Overall its liquidity and capital structure seem very good.
RETURN ON EQUITY AND ON MARKET VALUE
 
Latest four quarters adjusted (if applicable) net income return on average equity:
10.4%
Latest fiscal year adjusted (if applicable) net income return on average equity:
10.4%
Adjusted (if applicable) latest four quarters return on market capitalization:
5.5%
GROWTH RATIOS, OUTLOOK and CALCULATED INTRINSIC VALUE PER SHARE
 
5 years compounded growth in sales/share
16.9%
Volatility of sales growth per share:
 Strong, steady growth
5 years compounded growth in earnings/share
-8.5%
5 years compounded growth in adjusted earnings per share
4.5%
Volatility of earnings growth:
 Strong, steady growth until a recent weakness
Projected current year earnings $millions:
not available
Management projected price to earnings ratio:
0.0
Over the last ten years, has this been a truly excellent company exhibiting strong and steady growth in revenues per share and in earnings per share?
Yes
Expected growth in EPS based on adjusted fiscal Return on equity times percent of earnings retained:
7.2%
More conservative estimate of compounded growth in earnings per share over the forecast period:
7.5%
More optimistic estimate of compounded growth in earnings per share over the forecast period:
10.0%
GROWTH OUTLOOK: The company has developed an ability to acquire smaller engineering companies and to integrate them. The long-term outlook remains strong. It has a goal of growing revenue at 15% per year (revenue per share could be somewhat lower as it does tend to periodically issue shares). Based on the track record is has a good chance of achieving its goal. Q1 2018 may show good growth as Q1 2017 was relatively weak. Q2 2018 will be a tough comparable while Q3 and particularly Q4 should be strong compared to weak quarters in 2017.
LONG TERM PREDICTABILITY: While nothing in life is certain, Stantec seems likely to be able to continue to grow earnings through acquisitions as it has done for several decades now. And it has a long track record of profitability in all economic conditions. Its long-term predictability seems strong. However the growth is likely to be less than it was historically as it now takes much larger acquisitions to "move the needle".
Estimated present value per share: We calculate $28 if earnings per share grow for 5 years at 7.5% and the shares are then sold at a P/E of 14 and $35 if earnings per share grow at the more optimistic rate of 10% for 5 years and the shares are then sold at a P/E of 16. Higher values can be obtained by assuming higher growth and/or a higher ending P/E level. The company is targeting 15% earnings growth and similar EPD growth but the targeted EPS growth could be lower if share sales are anticipated (which is not clear). This is a valuation calculation and not a share price prediction. These estimates use a 6.5% required rate of return reflecting low interest rates.
ADDITIONAL COMMENTS
 
INDUSTRY ATTRACTIVENESS: (These comments reflect the industry rather than any particular company.)  Michael Porter of Harvard argues that attractive industries are those that are relatively protected from competition based on 5 key tests or forces.  Some barriers to entry in terms of reputation and critical mass of knowledge (pass)  The industry is not subject to powerful suppliers (pass) or customers (pass) who could usurp the industry profit. The industry has no substitute product (pass) The industry has some reputation for competing on price but this should not be severe as it is not a high fixed cost industry and it would be false economy for clients to use the lowest cost provider to design expensive projects (pass)  Overall, the industry seems moderately attractive for a large established incumbent like Stantec.
COMPETITIVE ADVANTAGE: Stantec is becoming a larger player in its regions within its industry. Has acquired a critical mass of knowledge and a certain amount of brand reputation and significant repeat business. Presumably its clients that are happy with its work would be reluctant to take a chance on switching consulting companies. Operates across a range of geographies and practice areas. The company indicates it has high standards with a focus on providing "Stantec's Sustainable Solutions"  and wants to provide environmentally friendly solutions for its customers. Stantec's practice of acquiring smaller private firms and folding them in has been a good strategy. Private firms often tend to be cheaper than publicly traded firms and so Stantec is adding immediate market value in this fashion. It appears to have developed strong skills in how to have professionals in far flung offices work together.
COMPETITIVE POSITION:  In 2017 Stantec attained the number 10 spot globally as an engineering / design company and number 3 in North America.
RECENT EVENTS: A new CEO was promoted from within effective January 1, 2018 as the prior CEO of eight years (age 63) retired but will remain on the Board. (We wonder if it was entirely his own decision.) On May 6, 2016 Stantec closed a massive acquisition that made it a global engineering firm. (Previously, its operations other than in Canada and the U.S. were tiny). This involved the purchase of privately held MWH Global for US $793 million. This has added an additional 6,800 staff in 127 offices spread over 26 countries. With this acquisition, Stantec is now taking some construction related risks although it will remain primarily a fee-for-service business. Four other acquisitions in 2016 added an additional 760 employees. For context, the total employees count is now about 22,000. There were several small acquisition in 2017 and two in the first two months of 2018.
ACCOUNTING AND DISCLOSURE ISSUES: There is very good disclosure provided in the annual and quarterly report.  See comments under earnings and asset quality. A recent divesture featured some complicated impacts on income tax but that is a one-time event. The impact of the Trump income tax changes were also complex.
COMMON SHARE STRUCTURE USED: Normal common shares, 1 vote per share.
MANAGEMENT QUALITY: Excellent track record. Management has traditionally had a strong focus on return on equity and not just on absolute growth although there was little focus on ROE in the 2017 annual report. The successful growth of this company over the years has been driven by management ambition and ability. Other engineering companies could have done this, but most did not. Management has done what it said it would do by growing the company by acquisition very steadily over the years. Organic growth has also been good. We have a high opinion of this management. However, there is a new CEO who is not yet proven as CEO and also the company did stumble somewhat in Q4 and perhaps with the overall integration and management of the very large acquisition it made in 2026.
Capital Allocation Skills: Management has historically exhibited exceptional capital allocation skills. Stantec has increased its value for many years by retaining earnings and allocating that capital to acquisitions upon which it has on average earned ROEs in the order of 18% (although recently lower). This was a far better use of capital than paying dividends would have been and was a far better use of capital than buying back shares would have been (other than perhaps on rare occasions like early 2009 when the stock, like most stocks was very cheap). It did introduce a small dividend several years ago but has wisely kept the earnings payout ratio relatively low.  It issues shared for a large acquisition in 2016 at $30.25. In Q2 2017 it was able to buy back a modest portion of these shares at a relatively similar price.
EXECUTIVE COMPENSATION: (based on figures from Spring 2017) Relatively modest salaries in the $400k to $850k range. Total compensation of $3.3 million for the CEO and ranged from about $1.0 to $1.3 million for the other four named officers. Given the size and profitability of the company the compensation does not seem excessive. Increases have been quite modest in the past few years.
BOARD OF DIRECTORS: (Spring 2017 information circular) three of the nine, including the current and a former CEO, have significant personal ownership (about $12 million each). The others have $1 to $3 million but this was likely earned almost entirely as compensation for being directors as opposed to being an original investment.  This ownership tends to align their interests with those of other shareholders. It appears to be a strong Board with representation from engineering, accounting, business and international government relations. It appears to be a strong Board.  With total director compensation in the $250k they might have difficulty exercising independence if it would put their Board membership at risk.
Basis and Limitations of Analysis: The following applies to all the companies rated. Conclusions are based largely on achieved earnings, balance sheet strength, earnings growth trend and industry attractiveness. We undertake a relatively detailed  analysis of the published financial statements including growth per share trends and our general view of the industry attractiveness and the company's growth prospects. Despite this diligence our analysis is subject to limitations including the following examples. We have not met with management or discussed the long term earnings growth prospects with management. We have not reviewed all press releases. We typically have no special expertise or knowledge of the industry.
DISCLAIMER: All stock ratings presented are "generic" in nature and do not take into account the unique circumstances and risk tolerance and risk capacity of any individual. The information presented is not a recommendation for any individual to buy or sell any security. The authors are not registered investment advisors and the information presented is not to be considered investment advice to any individual. The reader should consult a registered investment advisor or registered dealer prior to making any investment decision. For ease of writing style the newsletter and articles are often written in the first person. But, legally speaking, all information and opinions are provided by InvestorsFriend Inc. and not by the authors as individuals. The author(s) of this report may have a position, as disclosed in each report. The authors' positions may subsequently change without notice.
© Copyright:  InvestorsFriend Inc. 1999 – 2017  All rights to format and content are reserved.