Canadian National Railway Company Stock Report
Canadian National Railway Company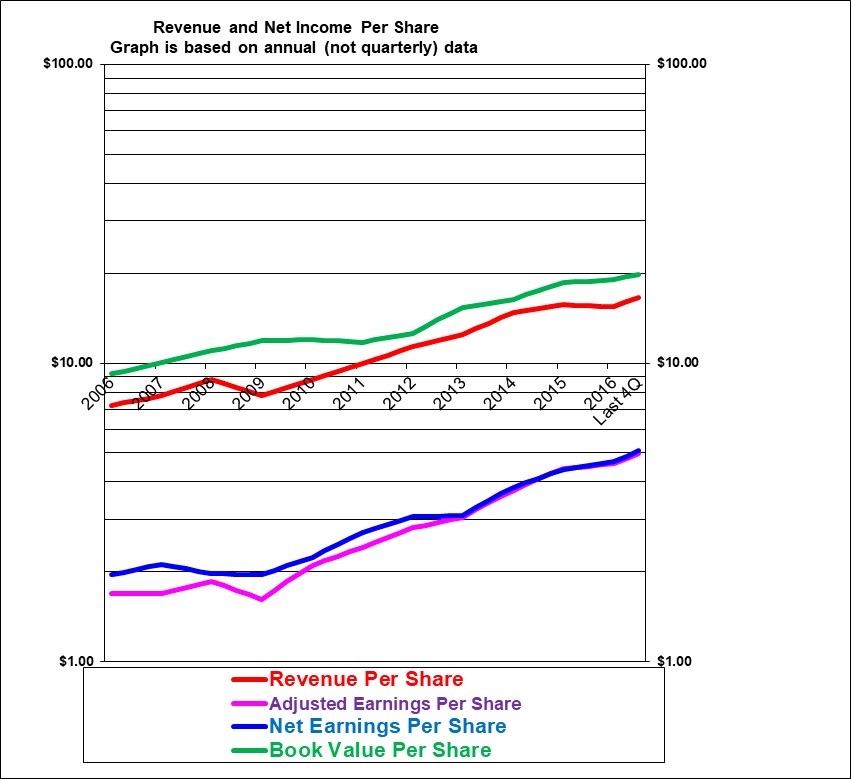 Historic growth is strong and relatively steady.  Revenue per share declined slightly in 2016 after slower revenue growth in 2015. The declines were due to lower carloads but also partly due to lower fuel surcharges. Earnings per share growth was slower but still position in 2016. There was a modest rebound in Q4 2016 followed by a sharp rebound in Q1 2017 and an even sharper increase in Q2. Book value per share continued to increase despite a large share buy-back program.
Canadian National Railway Company (CNR, Toronto CNI, New York)
RESEARCH SUMMARY
Report Author(s):
InvestorsFriend Inc. Analyst(s)
Author(s)' disclosure of share ownership:
 Author(s) hold no shares
Based on financials from:
Dec '16 Y.E. + Q2 '17
Last updated:
29-Jul-17
Share Price At Date of Last Update:
$98.41
Currency:
$ Canadian
Generic Rating (This rating does not consider the circumstances of any individual investor and is therefore not specific advice for any individual):
Weak Buy / Hold at CAN $98.41
SUMMARY AND RATING:   The graph illustrates that this company has produced  very strong historic (adjusted and/or GAAP) earnings per share growth.  The company appears to grow earnings in a predictable manner. It did experience a couple of quarters of modest declines in earnings in 2016 but then rebounded sharply in Q1 2017 and even more sharply in Q2. It has excellent economics. Revenues per share growth in the ten years shown has averaged 8.5% annually, Adjusted earnings per share annual average growth in the ten years shown has been 11.1%, Book value per share has  grown at a 7.8% annual average which is impressive given significant buybacks and also the dividend. Value ratios indicate a strong company which appears to be about fully valued at this time suggesting a rating of perhaps Weak Buy / Hold. The recent earnings and sales trend has rebounded sharply after a weak period in 2016. Also the car loadings had declined for six quarters but then rebounded modestly in Q4 and sharply in Q1 and q22017.   Management did very well in maintaining earnings in 2016 in the face of a relatively large decline in car loadings. Management is strong and seems to be very aggressively focused on growth in shareholder value. Does well on the Buffett tenets except tends to require much more capital replacement spending than Buffett would prefer (But Buffett likes the rail industry and paid a high valuation to acquire Burlington Northern).  Outlook for earnings growth is however quite modest for the remainder of 2017. The insider trading signal is about neutral to moderately positive. We strongly like the duopoly nature of the industry in Canada and the tracks that can't be duplicated. Should do reasonably well long term.  Overall we rate CN a Weak Buy / Hold. I am tempted to begin to re-establish a position in this company. I would also be prepared to buy on any material dip.
DESCRIPTION OF BUSINESS: Railroad, operating coast to coast in Canada and includes the former Illinois Central Railway which extends the reach south to the Gulf of Mexico. The total route-miles of track are 20,000 as of late 2016 (and this has been stable for some years).  There are  about 22,200 employees and the employees level has been decreasing. About two thirds of the revenues and profits are from Canada and the rest from the U.S.
ECONOMICS OF THE BUSINESS: The economics are excellent as indicated by the 25% ROE. Rail is more efficient than trucking. There is very limited rail competition in most of the territory it serves. Often one competing rail service. It is a capital intensive business. However wages are also a large part of the expense. Partly due to the capital intensive nature of the business, profits over sales are large at 30%. But profits over assets are only about 10%. Debt and deferred income taxes and other liabilities provide leverage. A substantial proportion of the income taxes are typically continuously deferred.
RISKS: The company notes environmental and casualty liability risks. Also labour trouble is a possible risk but they have recently achieved long-term labour settlements. Rising pension costs. Some regulatory and environmental risks. See annual report for more risks.
INSIDER TRADING / INSIDER HOLDING: Checking insider trading from January 1, 2017 to July 29, 2017 there is a mix of buying and selling. Most of the directors bought shares on January 26 at $92 or the equivalent U.S. price but this was likely taking director compensation as shares rather than true buys with their own money.  But there were also additional buys at prices up to about $99. Several insiders sold substantial shares but these insiders hold millions worth of shares. Several more insiders sold on exercising options. Two insiders exercised options but did not sell the acquired shares. Many insiders have very  significant wealth in options and so it is not necessarily a negative signal when they cash some in. But in this case the sales seem significant. Overall, the insider trading signal is neutral to moderately positive.
WARREN BUFFETT's CRITERIA: Buffett indicates that all investments must pass four key tests: the business is  simple to understand (pass although there are some complexities and estimates in the accounting), has favorable long-term economics due to cost advantages or superior brand power (pass due to limited competition and lower cost structure than trucking), apparently able and trustworthy management (pass given focus on efficiency and profits and past success), a sensible price – below its intrinsic value (marginal pass ), Other criteria that have been attributed to Buffett include: a low  debt ratio (pass with debt at 73% of book equity and with book equity being far lower than its market value), good recent profit history (pass) little chance of permanent loss of the investors capital (pass) a low level of maintenance type capital spending required to maintain existing operations excluding growth (fail given that free cash is lower than net income and the need to replace assets fairly regularly)
MOST RECENT EARNINGS AND SALES TREND:    Adjusted earnings per share growth over the past four quarters has been (starting with the most recent quarter and going back ) positive 20%, positive 14%, positive 5%,  and unchanged. The revenue and earnings  per share trend can be distorted by volatile fuel prices and fuel price surcharges and by the changes in the Canadian dollar. Revenue per share growth in the past four quarters has been positive 21%, positive 12%, positive 5%, and minus 3% (volatile fuel surcharges contributed to the figures). The full year 2016 had 3% EPS growth and minus 1% revenue per share growth.  The full year 2015 had 18% EPS growth and 12% revenue per share growth.  The full year 2014 had 23% EPS growth and 18% revenue per share growth.  Overall the recent trend has turned very positive after weakness in the first three quarters of 2016.
INDUSTRY SPECIFIC STATISTICS: Car loadings in the past four quarters starting with the most recent (Q2 2017) were up 14%, up 9%, up 3%, and down 4%. Revenue ton miles in the most recent four quarters were up 18%, up 14%, up 4%, and down 3%.  For 2016 as a whole, car loadings were down 5% and revenue ton miles were down 5%.For 2015 as a whole, car loadings were down 2% and revenue ton miles, down 3%. These volume indicators were quite negative until they rose modestly in Q4 and then surged in Q1 2017and surged even more in Q2. See comments under outlook.
Earnings Growth Scenario and Justifiable P/E: The trailing P/E was recently 19.8. This can be justified with EPS growth of about 6% annually and the P/E declining modestly to 18 over a ten year holding period as one scenario. Or 7% annual growth and a terminal P/E of 16 as another scenario. This assumes a required return of 6.5%.
VALUE RATIOS: Analysed at CAN $98.41 and U.S. $79.12. The price to book value ratio at 5.0 is ostensibly unattractive but mathematically simply reflects the very high ROE combined with the P/E. It also reflects the fact that the value of CN's land and land rights, much of which was acquired decades ago are not reflected at anything close to current market value. Price to book would be substantially lower (more attractive) if deferred taxes were removed or fully discounted as a liability – since they may continue to be deferred for many years. The adjusted P/E (and the adjustments were minor) is 19.8 which seems about neutral in attractiveness for this high-quality company. The dividend yield is modest at 1.7% and amounts to a pay-out ratio of 33% of earnings. Return On Equity is extremely strong at 26%. Revenues per share have grown at an average 9.2% in the past 5 fiscal years (revenue growth was much lower in the past two years partly due to lower fuel surcharges). Adjusted EPS growth over the last 5 fiscal years has averaged 13.7% and had been steady but was only 3.4% in 2016 but has recovered sharply in 2017.  As detailed below, we calculate the intrinsic value to be $87 to $121, assuming five-year growth of 5% to 9% and a P/E in five years of 15 and 18 respectively, and using a required rate of return of 6.5%.   This indicates an estimated Price to Value ratio of between 114% and 82% respectively. The Value Ratios in isolation,  indicate a  very strong company which is likely about fully valued or more indicating  a rating of Weak Buy / Hold.
SUPPORTING RESEARCH AND ANALYSIS
Symbol and Exchange:
CNR, Toronto ( and CNI, New York)
Currency:
$ Canadian
Contact:
janet.drysdale@cn.ca
Web-site:
www.cn.ca
INCOME AND PRICE / EARNINGS RATIO ANALYSIS
Latest four quarters annual sales $ millions:
$12,766.0
Latest four quarters annual earnings $ millions:
$3,905.0
P/E ratio based on latest four quarters earnings:
19.3
Latest four quarters annual earnings, adjusted, $ millions:
$3,816.0
BASIS OR SOURCE OF ADJUSTED EARNINGS: One time gains and losses identified by management are removed for the adjusted earnings figure. Impacts of currency change are not adjusted for.
Quality of Earnings Measurement and Persistence: The reported Earnings seem "real". But, the company notes that the depreciation charges are insufficient to replace the equipment after inflation. This seems to be the case given that capital expenditures are usually higher than the depreciation expense.  Pension expenses appear to have been under-stated. Free cash flow continues to lag earnings . The deferral of taxes on the other hand adds to earnings quality. Overall, the quality of earnings seems strong.
P/E ratio based on latest four quarters earnings, adjusted
19.8
Latest fiscal year annual earnings:
$3,640.0
P/E ratio based on latest fiscal year earnings:
20.7
Fiscal earnings adjusted:
$3,581.0
P/E ratio for fiscal earnings adjusted:
21.1
Latest four quarters profit as percent of sales
29.9%
Dividend Yield:
1.7%
Price / Sales Ratio
5.92
BALANCE SHEET ITEMS
Price to (diluted) book value ratio:
 4.97
Balance Sheet: (Updated Q1 2017) CN's balance sheet is very strong.  Assets are comprised as follows: Properties 90% (Predominantly track and roadway and also rolling stock), current assets 6% (predominantly accounts receivable and materials), a prepaid pension amount 3% and 1% intangibles. These assets are financed as follows: Owners equity 40%, debt 29%, deferred income taxes 23%, accounts payable 4%, and other deferred liabilities 4%. Debt is 73% of the equity level which is relatively modest but has been increasing.  And, the book equity is artificially low because much of its land and rail rights of way were acquired decades ago at prices far below current value. There is  no goodwill on the books, which is surprising given it had made major acquisitions in the past but this is probably an artifact of U.S. GAAP accounting in which acquisitions are often treated as mergers. Its retained earnings are more than three times its common share equity (despite dividends and substantial share buy backs) which indicates a strong history of profitability. A very large deferred income tax liability is a softer liability in that this amount is likely to continue to grow for years (a liability that you don't need to repay is not much like a current payable due).
Quality of Net Assets and Book Value Measurement: With little or no intangible assets, the assets appear to be very strong. The book value of the equity overall appears to be very conservatively stated. There is a large and growing deferred income tax liability which will likely not be paid for many years. The present cash value of this liability is therefore likely much lower than the book liability and this tends to add to the true economic value of equity and create a stronger, higher quality balance sheet.  Much of the market value of its land is not reflected on the balance sheet. However, with the shares trading at over five times book value, the company is valued for earnings and not the book value of its assets.
Number of Diluted common shares in millions:
 759.7
Controlling Shareholder: None, partly due to a 15% ownership restriction imposed by government. Bill Gates owns over 12.8% of the company and has been a major owner for many years.
Market Equity Capitalization (Value) $ millions:
$74,762.1
Percentage of assets supported by common equity: (remainder is debt or other liabilities)
40.4%
Interest-bearing debt as a percentage of common equity
73%
Current assets / current liabilities:
0.7
Liquidity and capital structure: The company has a very strong balance sheet and access to liquidity.
RETURN ON EQUITY AND ON MARKET VALUE
Latest four quarters adjusted (if applicable) net income return on average equity:
25.6%
Latest fiscal year adjusted (if applicable) net income return on average equity:
24.0%
Adjusted (if applicable) latest four quarters return on market capitalization:
5.1%
GROWTH RATIOS, OUTLOOK and CALCULATED INTRINSIC VALUE PER SHARE
5 years compounded growth in sales/share
9.2%
Volatility of sales growth per share:
 Moderately volatile
5 years compounded growth in earnings/share
11.6%
5 years compounded growth in adjusted earnings per share
13.7%
Volatility of earnings growth:
 moderately volatile
Projected current year earnings $millions:
$3,817.5
Management projected price to earnings ratio:
19.6
Over the last ten years, has this been a truly excellent company exhibiting strong and steady growth in revenues per share and in earnings per share?
Yes
Expected growth in EPS based on adjusted fiscal Return on equity times percent of earnings retained:
16.1%
More conservative estimate of compounded growth in earnings per share over the forecast period:
5.0%
More optimistic estimate of compounded growth in earnings per share over the forecast period:
9.0%
OUTLOOK FOR BUSINESS:  Q3 seems likely to be another strong quarter for traffic growth but the higher Canadian dollar will partly offset that. Q4 will be a tougher comparable. The company is projecting only about  2% earnings growth during the remainder of 2017 however in the past we have found that they tend to exceeds their guidance.
LONG TERM PREDICTABILITY: This company seems relatively predictable. It would seem to be a very good bet that the company will still be around in ten and twenty years and more and will be hauling more freight than today as the economy grows over the years although it does not grow every year. It seems to us that CN is well positioned for the long term as North America continues to import goods from Asia. The  strong earnings growth that averaged 14% in the past five years was boosted by currency and possibly by lower fuel costs (net of surcharges) and by share buybacks. It seems very unlikely that earnings can grow anywhere near as fast in the next five years. 5 to 7% might be a more reasonable target. In the three years ending 2016 it appears that about 50% of earnings are used to repurchase shares. Some of the achieved earnings growth has come from efficiencies including a lower head count.  It is not clear if the level of share buybacks can be maintained. It seems unlikely that the pace of efficiency improvement can be maintained.
Estimated present value per share: We calculate $87 if earnings per share grow for 5 years at an average compounded 5% and the shares can then be sold at a reduced P/E of 15. And $121 if earnings per share grow at a compounded 9% for 5 years and the shares can then be sold at an unchanged  P/E of 18. 9% annual growth may be quite optimistic. Both estimates use a 6.5% required rate of return. This is not  a share price prediction.
ADDITIONAL COMMENTS
INDUSTRY ATTRACTIVENESS: (These comments reflect the industry and the company's particular incumbent position within that industry segment.) Michael Porter of Harvard argues that an attractive industry is one where firms are somewhat protected from competition.  This industry has very strong barriers to entry in terms of rail rights of way (pass). Not subject to dependency on powerful customers (pass). No dependency on powerful suppliers (pass, although workforce is unionized), The industry as a whole is subject to trucking as substitute product but tends to be more efficient that trucks  (marginal pass), Probably limited  tendency to compete excessively on the basis of price due to competitive advantage over trucks in many cases but tempered by commodity nature of products and presence of fixed cost structure (marginal pass). Overall, appear to be a somewhat attractive industry for established incumbents.
COMPETITIVE ADVANTAGE: Strong management with a focus on simple fundamentals like labor efficiency and moving the trains faster and minimizing investments in assets.  Often acknowledged as the best managed and lowest operating cost per dollar of revenue railroad in North America. Appears to have some "pricing power" as evidenced by the ability impose fuel surcharges and higher rates  without affecting volumes. Presumably the tracks that they own are an advantage because their are likely few or no other rail service options available to many of their customers. (Although in some U.S. markets they compete with barges on the Mississippi river).They state that they have advantages in operation with a scheduled shipping approach that they believe allows them to price their service at some premium rather than pricing as a commodity service.
COMPETITIVE POSITION: This industry does not lend itself to a calculation of market share since transportation service is very location specific and market share data is not available.
RECENT EVENTS:  The CEO retired in June 2016 for health reasons and was replaced by an existing executive who has been with the company since 2009. Traffic was down in 2016 and the company was able to offset that and maintain (although not grow) earnings per share by efficiencies including reduced headcount. Traffic rebounded somewhat in Q4 2016 and then very sharply in Q1 2017 and even more sharply in Q2.
ACCOUNTING AND DISCLOSURE ISSUES: Uses U.S. GAAP. Generally exceptionally good disclosure.  Excellent disclosure of freight moved (number of rail cars, ton-miles etc.) and revenue sources and results for different freight types.   There are some complexities involved in understanding the pension liability and environmental liabilities. Pension expenses appear to be somewhat understated in most recent years since cash contributions to the pension exceed the booked expense. Also depreciation is a large expense and by its nature must be estimated. The extent to which pricing is regulated is discussed but not really disclosed in a meaningful way. The positive or negative net impact of the fuel surcharge was not much discussed.
COMMON SHARE STRUCTURE USED: Normal common shares, 1 vote per share.
MANAGEMENT QUALITY: Excellent management. It appears that these people definitely know how to run a railroad. Their long-time focus on asset utilization such as moving the trains faster and limiting idle time seems very logical. Their focus on customer service is also logical.  The excellent level of disclosure in the annual report is a sign of a management that respects the shareholders. They have also bought back shares steadily over the years and at prices which have proven to be advantageous for the continuing shareholders although we have sometimes thought they were paying topo much to buy back shares. The share count was reduced by 27% over the ten years ended 2016. The last three CEOs appear to have pursued the same steady methods that have worked in the past and that keep on working. The new CEO who most recently took over is unlikely to change the strategy.
Capital Allocation Skills: Management has shown strong capital allocation skills over the years by not over-paying for acquisitions and by buying back shares steadily at attractive prices. It does remain to be seen if the more recent share acquisitions will prove to have been done at an attractive price.
EXECUTIVE COMPENSATION:  Compensation is generous ranging from $3.2 million to $10.1 million for the named officers for 2015. Compensation does appear to decrease in the bad years which is good. Overall, given the size and profitability of this company, we are  not concerned about executive compensation at this time.
BOARD OF DIRECTORS: (updated June 2016)  11 members. A prestigious board with a number of former CEOs of prominent companies.  A typical outside board member has substantial shares (several $million worth to $20 million) and this insures that their interests are aligned with other shareholders however it appears that most of those shared were simply earned as compensation for being Board members and not purchased independently.  There appears to be none who were independent large shareholders before being directors. Overall, probably  a good Board
Basis and Limitations of Analysis: The following applies to all the companies rated. Conclusions are based largely on achieved earnings, balance sheet strength, earnings growth trend and industry attractiveness. We undertake a relatively detailed  analysis of the published financial statements including growth per share trends and our general view of the industry attractiveness and the company's growth prospects. Despite this diligence our analysis is subject to limitations including the following examples. We have not met with management or discussed the long term earnings growth prospects with management. We have not reviewed all press releases. We typically have no special expertise or knowledge of the industry.
DISCLAIMER: All stock ratings presented are "generic" in nature and do not take into account the unique circumstances and risk tolerance and risk capacity of any individual. The information presented is not a recommendation for any individual to buy or sell any security. The authors are not registered investment advisors and the information presented is not to be considered investment advice to any individual. The reader should consult a registered investment advisor or registered dealer prior to making any investment decision. For ease of writing style the newsletter and articles are often written in the first person. But, legally speaking, all information and opinions are provided by InvestorsFriend Inc. and not by the authors as individuals. The author(s) of this report may have a position, as disclosed in each report. The authors' positions may subsequently change without notice.
© Copyright:  InvestorsFriend Inc. 1999 – 2017  All rights to format and content are reserved.