American Express Company Stock Report
American Express Company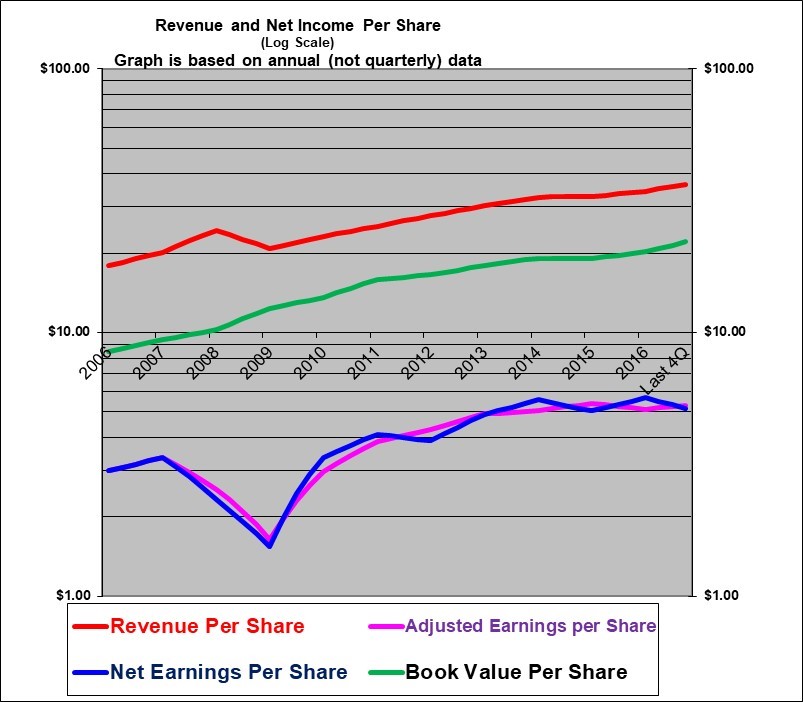 Revenues per share were flat in 2015 partly due to currency impacts. Growth resumed in  2016 to date. Adjusted earnings rose modestly in 2015 then fell  in 2016 with the loss of the Costco business after June. Adjusted earnings are turning up as of Q3 2017 more so than is yet evident in the graph.  Book value per share has risen steadily due to a high ROE and a low payout ratio, despite aggressive share buy backs.
American Express Company (AXP, New York)
RESEARCH SUMMARY
Report Author(s):
 InvestorsFriend Inc. Analyst(s)
Author(s)' disclosure of share ownership:
 The Author(s) hold shares
Based on financials from:
Dec '16 Y.E. +Q3 '17
Last updated:
20-Oct-17
Share Price At Date of Last Update:
$93.86
Currency:
$ U.S.
Generic Rating (This rating does not consider the circumstances of any individual investor and is therefore not specific advice for any individual):
 (lower) Buy at $93.86
SUMMARY AND RATING:  The graph of revenues per share (red line) shows  strong and reasonably steady growth since the dip in 2009. The graph also shows strong and steady growth for earnings per share from 2009 to 2013 but then modest growth in the past two years. The Value ratios would indicate  a Weak Buy rating . Management quality appears to be strong although we have some concerns about disclosure. They reported "adjusted" earnings for 2016 which failed to deduct a large special gain on the sale of the Costco receivables, this omission was nothing short of misleading.  The insider trading signal is moderately negative . Executive compensation is high but this is not a concern given the size of the company. In the short-term earnings are expected to increase strongly in 2018. The longer term outlook seems positive as the company benefits from the continued switch to electronic payments and as it grows its business through partnerships. It has the competitive advantage of a strong brand image. There are risks associated with regulation and competition as well as computer system risks regarding operations and privacy. The company recently appears to be conservative in projecting earnings. Overall we rate American Express a (lower) Buy at $93.86.
DESCRIPTION OF BUSINESS: (Updated based on 2016 year end) American Express is a type of (mostly very short-term) lending operation. It allows consumers to buy today and pay in about one month (where it operates as a payments method and only incidentally as a lender|) or in some cases to defer full payment for many months. Its traditional cards were and are convenience cards as users charged goods but paid the bills in full each month. In this part of the business it faces far more competition than it traditionally did. It also offers credit cards. These cards have required it to offer loyalty points systems as well. The fee charged to merchants averages about 2.45% and has been declining slightly. Like almost all lenders, it is highly leveraged. At the end of Q3 2017 its common equity was 11.5% of its assets. It funds its large receivables and loans through debt and through wholesale deposits as well as securitizations. The business is about two-thirds in the United States and one third outside. Traditionally, American express was an integrated company that did not partner with banks. More recently is does partner with banks to allow certain banks to issue American Express branded cards. It had 118 million cards in force at the end of 2015.   55% of  revenues are from merchant discount fees, 22% of revenue is from interest charged mostly to cardholders, 9% of revenue is from card fees, 6% of revenue is from other items and 8% is from  including fees and commissions. In 2016 74% of revenues were from the U.S. and 83% of operating income was from the U.S.
ECONOMICS OF THE BUSINESS: The economics of the business are very strong as reflected in the high return on equity of about 26%.  The ROE can be broken down to 15.9% profit on revenue, which is reduced to 33% profit on assets due to the large asset levels and then leveraged up to 26% return on ending equity because assets are 8.0 times larger than common equity level that is only 12.5% of the asset level. It has good operational economics in that much of the revenue flows in automatically and electronically without incremental effort as card-members make purchases. The customer base tends to be "sticky", although most customers can easily switch to other cards if AMEX is not competitive in terms of card rewards.
RISKS: See annual report for a full discussion of risks. It is possible (even likely) that competition or regulation will drive down the fees charges to merchants when they accept these credit cards. There is also increased competition as to which cards or payment methods customers will carry and use and competition regarding the rewards provided to customers. There are operating and privacy risks associated with their vast computer systems.
INSIDER TRADING / INSIDER HOLDING (from January 1, 2017 to October 20, 2017) About 10 insiders sold during 2017 at prices around $78, $85 and one at $90. There was one direct purchase at $80. A few other acquisitions were made but these were non-open market.  Overall the insider trading signal is moderately negative.
WARREN BUFFETT's CRITERIA: Buffett indicates that all investments must pass four key tests: the business is  simple to understand and predict (marginal pass as the business is understandable but is very large and relatively complex), has favorable long-term economics due to cost advantages or superior brand power (pass due brand advantages, although it does not have the scale or cost advantages of Visa and MasterCard), apparently able and trustworthy management (marginal pass, management seems candid but we noted some issues with disclosure), a sensible price – below its intrinsic value (marginal pass), Other criteria that have been attributed to Buffett include: a low  debt ratio (marginal pass, debt is high, but that is normal for a lender), good recent profit history (marginal pass) little chance of permanent loss of the investors capital (marginal pass) a low level of maintenance type capital spending required to maintain existing operations excluding growth (pass). Warren Buffett (Berkshire Hathaway) has been the largest owner of  shares for decades and therefore it can be considered to pass his criteria though it has been many years since he bought or sold any shares but he has spoken favorably of the company as recently as this month on the occasion of the announced retirement of the CEO.
MOST RECENT EARNINGS AND SALES TREND: The revenue per share growth in the past four quarters beginning with the most recent (Q3 2017) has been 14%, 6%, 4% and 3%. The adjusted earnings per share growth in the past four quarters beginning with the most recent (Q3 2017) has been 31%, minus 5%, minus 6% and minus 26%. Revenues per share were flat in 2015 and adjusted earnings per share were up 6%. Revenues per share were up 5% in 2016 and adjusted earnings per share were up 10%. Revenues per share were up 8% in 2014 and adjusted earnings per share were up 3.0%. Overall, the most recent earnings and sales trend had been weak mostly due to the loss of the Costco branded cards but has turned sharply positive in the latest quarter.
INDUSTRY SPECIFIC STATISTICS: Billed business in the U.S. in each of the past four quarters starting with the most recent was up 7%, down 4%, down 6% and down 8%. For outside the United States the billed business growth was up 9%, up 11%, up 13% and up 11%. Cards in force in the U.S. in the past three quarters starting with the most recent were up 5%, down 18%, down 17% and down 18% (declines due to loss of Costco cards). Internationally, cards in force were up 3%, up 3%, up 4% and up 4%. Growth has resumed in Q3 after lapping the quarters affected by the loss of the Costco cards.
Earnings Growth Scenario and Justifiable P/E: 5% earnings growth combined with a 26% dividend payout ratio can justify a P/E of about 18 assuming a required return of 6.5%.
VALUE RATIOS: Analysed at a price of $92.09 per share. The price to book value ratio is ostensibly unattractively somewhat high, in isolation, at 4.2, but reflects the high ROE and is not a reliable indicator for this company. The dividend yield is modest at 1.5% but reflects a pay-out ratio of just 26%. The P/E ratio is neutral in attractiveness at 17.3. The ROE is very high at 25%. The ROE can be broken down to 14.6% profit on revenue, which is reduced to 2.8% profit on (ending) assets due to the large asset levels and then leveraged up to 25% ROE as assets are 8.7 times larger than common equity which is only 11.5% of the asset level. Calendar-year revenues per share have grown at a compounded average of 6.3% since the end of 2011. Adjusted earnings per share have grown at a compounded 9.0% per year since 2011.  If earnings per share grow at a compounded 4% per year for the next five years and the P/E declines to 14 then we calculate an intrinsic value of $73. If earnings per share grow at a compounded 7% per year for the next five years and the P/E remains at 17 then we calculate an intrinsic value of $100.  The intrinsic value assumes a required return of 6.5%.  Overall the value ratios indicate a very strong company which is under-valued only if the growth is more than about 6% per year.  Overall these ratios suggest a rating of Weak Buy.
SUPPORTING RESEARCH AND ANALYSIS
Symbol and Exchange:
AXP, New York
Currency:
$ U.S.
Contact:
ir@aexp.com
Web-site:
www.americanexpress.com
INCOME AND PRICE / EARNINGS RATIO ANALYSIS
Latest four quarters annual sales $ millions:
$32,681.0
Latest four quarters annual earnings $ millions:
$4,640.0
P/E ratio based on latest four quarters earnings:
18.2
Latest four quarters annual earnings, adjusted, $ millions:
$4,768.1
BASIS OR SOURCE OF ADJUSTED EARNINGS: Used adjustments reported by management
Quality of Earnings Measurement and Persistence: Earnings appear to be of high quality and persistence.
P/E ratio based on latest four quarters earnings, adjusted
17.7
Latest fiscal year annual earnings:
$5,285.0
P/E ratio based on latest fiscal year earnings:
15.9
Fiscal earnings adjusted:
$4,790.4
P/E ratio for fiscal earnings adjusted:
17.6
Latest four quarters profit as percent of sales
14.6%
Dividend Yield:
1.5%
Price / Sales Ratio
2.58
BALANCE SHEET ITEMS
Price to (diluted) book value ratio:
                                        4.26
Balance Sheet: (last updated Q4, 2015) Assets consist mainly of short-term and longer term receivables from card holders as well as invested cash. Physical and software assets are a small portion of assets. Goodwill and purchased intangibles are modest. Liabilities consist mostly of "funding sources" including customer deposits and debt raised to fund receivables. Common equity is only about 12% as large as total assets but that is normal for a lending operation.
Quality of Net Assets (Book Equity Value) Measurement: With the shares trading at a relatively high multiple of book value, the shares are valued for earnings and not their book value.
Number of Diluted common shares in millions:
                                881.0
Controlling Shareholder: (updated 2016) Warren Buffett / Berkshire controls almost 14%. An investment company owns 6.0%. Thirty insiders collectively control only 1.3% of the shares.
Market Equity Capitalization (Value) $ millions:
$82,690.7
Percentage of assets supported by common equity: (remainder is debt or other liabilities)
11.5%
Interest-bearing debt as a percentage of common equity
263%
Current assets / current liabilities:
not revealed
Liquidity and capital structure: Like all lending companies, American Express is highly leveraged. But its balance sheet does appear to be strong. S&P rates its corporate  debt as BBB+ which is a bit weak for a large financial institution. Subsidiary debt however is rated A minus.
RETURN ON EQUITY AND ON MARKET VALUE
Latest four quarters adjusted (if applicable) net income return on average equity:
24.6%
Latest fiscal year adjusted (if applicable) net income return on average equity:
25.2%
Adjusted (if applicable) latest four quarters return on market capitalization:
5.8%
GROWTH RATIOS, OUTLOOK and CALCULATED INTRINSIC VALUE PER SHARE
5 years compounded growth in sales/share
6.3%
Volatility of sales growth per share:
 Steady growth
5 Years compounded growth in earnings/share
6.5%
5 years compounded growth in adjusted earnings per share
5.9%
Volatility of earnings growth:
 Recent steady growth
Projected current year earnings $millions:
$5,153.9
Management projected price to earnings ratio:
16.0
Over the last ten years, has this been a truly excellent company exhibiting strong and steady growth in revenues per share and in earnings per share?
Yes
Expected growth in EPS based on adjusted fiscal Return on equity times percent of earnings retained:
18.7%
More conservative estimate of compounded growth in earnings per share over the forecast period:
4.0%
More optimistic estimate of compounded growth in earnings per share over the forecast period:
7.0%
OUTLOOK FOR BUSINESS:  The company projects strong near-term earnings growth partly through reduced marketing expenses and reduced other expenses.   American express is benefiting from the continuing switch to electronic payments. The company is addressing its speed of payments to become more attractive to small businesses. The company continues to partner with others in growing its business.
LONG TERM PREDICTABILITY: It seems reasonable to conclude that American Express will continue to grow over the long term. However, it is in an industry subject to disruption by new technology. Predictability seems less certain in 2017 than it appeared to be previously.
Estimated present value per share: We calculate  $73 if adjusted earnings per share grow for 5 years at the more conservative rate of 4% and the shares can then be sold at a P/E of 14 and $100 if adjusted earnings per share grow at the more optimistic rate of 7% for 5 years and the shares can then be sold at a P/E of 17.  Both estimates use a 6.5% required rate of return.
ADDITIONAL COMMENTS
INDUSTRY ATTRACTIVENESS: (These comments reflect the industry and the company's particular incumbent position within that industry segment.) Michael Porter of Harvard argues that an attractive industry is one where firms are somewhat protected from competition based on the following four tests. Barriers to entry (pass). No issues with powerful suppliers (pass). No issues with dependence on powerful customers (marginal pass as bank and retail partners are becoming more important), No potential for substitute products (marginal pass as new payment technologies are being introduced) No tendency to compete ruinously on price (pass, at least so far). Overall this industry appears to be attractive for large incumbents with an established position.
COMPETITIVE ADVANTAGE: American express has strong advantages in terms of its prestige brand image. In terms of funding the credit card receivables and loans is it likely at a disadvantage compared to the system used by Visa and MasterCard (which may fund with low-cost bank deposits) but this may be offset to some degree by its integrated structure. Write-off and fraud levels are far lower than the industry average. The company believes that its direct relationship with customers is becoming more of an advantage as the payments technology evolves.
COMPETITIVE POSITION: Information from Visa for 2016 indicates that American Express has a small share of the world market for charge cards at 2.4%%, but has 8.9% of the total payments dollar volume. Its market share declined in 2016 with the loss of the Costco branded cards.
RECENT EVENTS: The company has been buying back its shares very heavily with a 7% reduction in the share count in 2016.  In October, announced that the CEO since year 2001, age 66, will retire as of February 1, 2018 and an existing long-time executive will replace him. In September raised the dividend by 9% to 35 cents per share. Near the end of Q2 2016 AmEx had lost is Costco card business as Costco in the U.S. switched to accepting only Visa.  In early 2016 the company announced that it will attempt to remove $1 billion in costs by the end of 2017 and it now indicates this is ahead of schedule. As of mid 2016 expenses are about $23 billion and pre-tax profits are about $8 billion so this could increase profits incrementally by about 12% over two years if achieved.  In late October, AMEX announced certain structural changes and changes in executive responsibilities. In October  2016 AMEX announced that its cards are now accepted at SAM's Club. But they are not the exclusive cards at SAMs.  The Costco co-brand cards accounted for 8% of billed business, 10% of cards in force and 20%  of loans receivable.
ACCOUNTING AND DISCLOSURE ISSUES: We ran into a number of problem areas. Parts of the disclosure are confusing. There were tables featuring a strange mixture of figures with most in millions and a few in billions. The audited income statement provides the net income but omits the all-important and slightly lower net income to common figure. The quarterly press releases are extremely brief and omit the financial statements  and so one has to refer to supplemental data. We could not find an accurate value for the quarter-end amount of common equity in the earnings release. The preferred share equity was mostly mixed in with common share equity on the balance sheet, an approach we have never seen before.  Apparently cash rewards to card holders are required to be reported a reduction to the discount fee revenue. This distorts the revenue figure but has no impact on the earnings. The 2016 annual report and quarterlies used an adjusted earnings figure that failed to deduct the unusual gain on selling the Costco card loan portfolio. This was nothing short of misleading.
COMMON SHARE STRUCTURE USED: Normal, one vote per share.
MANAGEMENT QUALITY: Appears to be reasonably high quality but they may need to move faster to reduce costs. Also the disclosure of adjusted earnings in some quarters omitted gains and was nothing short of misleading.
Capital Allocation Skills: Its practice of buying back shares appears to have been a good use of capital over the years. Management appears to have shown good capital allocation skills.
EXECUTIVE COMPENSATION: (Updated 2016) As would be expected, the compensation is quite generous ranging from $6 million to $28 million in total compensation for the named officers. With earnings of over $5000 million per year, executive compensation is not a concern.
BOARD OF DIRECTORS:  Warren Buffett has suggested that ideal Board members be owner-oriented, business-savvy, interested and financially independent. The directors are mostly current former CEOs of other large companies. They probably have business savvy but they don't appear to  represent the level of personal ownership that Buffett would favor. And they may suffer from a non-diversity of opinion.
Basis and Limitations of Analysis: The following applies to all the companies rated. Conclusions are based largely on achieved earnings, balance sheet strength, earnings growth trend and industry attractiveness. We undertake a relatively detailed  analysis of the published financial statements including growth per share trends and our general view of the industry attractiveness and the company's growth prospects. Despite this diligence our analysis is subject to limitations including the following examples. We have not met with management or discussed the long term earnings growth prospects with management. We have not reviewed all press releases. We typically have no special expertise or knowledge of the industry.
DISCLAIMER: All stock ratings presented are "generic" in nature and do not take into account the unique circumstances and risk tolerance and risk capacity of any individual. The information presented is not a recommendation for any individual to buy or sell any security. The authors are not registered investment advisors and the information presented is not to be considered investment advice to any individual. The reader should consult a registered investment advisor or registered dealer prior to making any investment decision. For ease of writing style the newsletter and articles are often written in the first person. But, legally speaking, all information and opinions are provided by InvestorsFriend Inc. and not by the authors as individuals. The author(s) of this report may have a position, as disclosed in each report. The authors' positions may subsequently change without notice.
© Copyright:  InvestorsFriend Inc. 1999 – 2017  All rights to format and content are reserved.