RioCan Real Estate Investment Trust Stock Report
RioCan Real Estate Investment Trust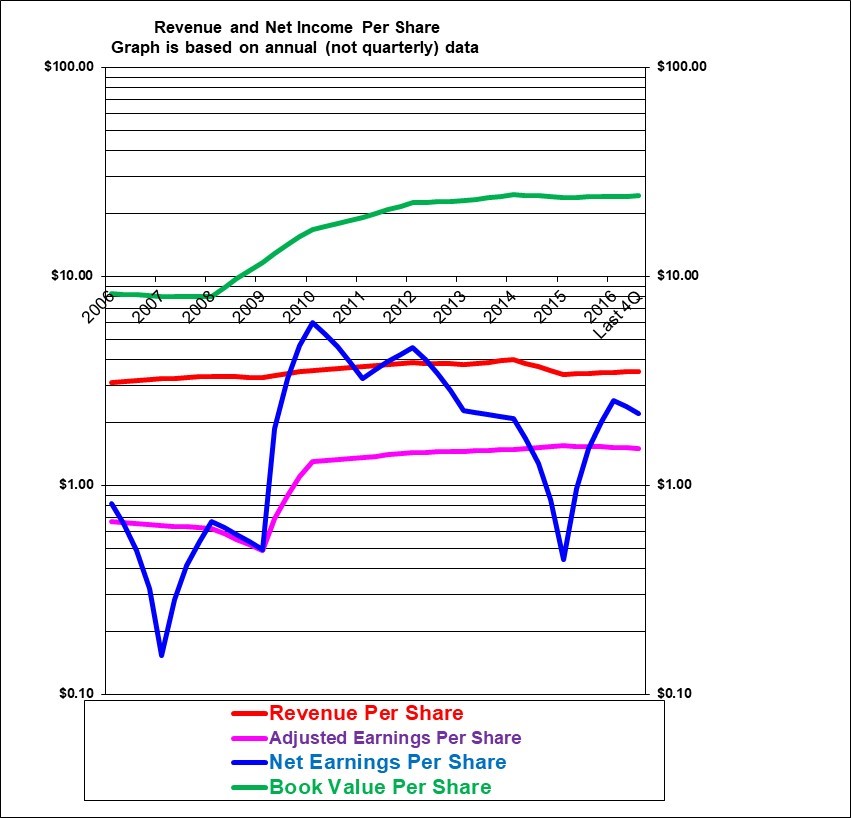 The graph of the revenue per unit (red line) shows that growth had been quite modest but steady until a decline in 2015 which appears to be due to an unusual increase in 2014. Ignore the blue line which is the GAAP earnings per unit since it has been affected by a large income tax expense in 2007 which was then reversed in 2010 and also was greatly affected by the marking to market of the properties under the International Financial Accounting that the company has adopted. The uselessness and absurdity of IFRS accounting, in this case, can be seen when we contemplate the fact that the GAAP earnings had been running higher than revenues. The pink line shows adjusted earnings per unit and shows modest but steady growth since 2011. The growth is good considering that it distributes essentially all of it earnings and then funds investments by issuing new units including through its DRIP. Adjusted earnings prior to 2011 are not really comparable as we used a different definition at that time and this was prior to IFRS accounting.
The green line is book value per share which has increased in large part due to lower interest rates as the properties are marked to market at lower discount or cap rates. The big increase in book value per share around 2010 was due to IFRS and the start of mark to market accounting for the properties.
RioCan Real Estate Investment Trust (REI.UN, Toronto)
RESEARCH SUMMARY
Report Author(s):
 InvestorsFriend Inc. Analyst(s)
Author(s)' disclosure of share ownership:
 The Author(s) hold no shares
Based on financials from:
Dec '16 Y.E. + Q2 '17
Last updated:
16-Sep-17
Share Price At Date of Last Update:
$23.84
Currency:
$ Canadian
Generic Rating (This rating does not consider the circumstances of any individual investor and is therefore not specific advice for any individual):
Buy rated at $23.84
SUMMARY AND RATING: The graph shows that the revenues per unit have historically grown a  low rate. The adjusted earnings per unit has increased modestly but steadily since 2010 but was down in 2016 due to the sale of the U.S. properties.  Future earnings per unit growth can be predicted with reasonable confidence although debt renewals at higher interest rates or recessions could eliminate growth. The Value ratios appear to suggest a rating of Buy. The Buffett tenets are reasonably good. The insider trading signal is moderately positive. Management quality seems good although some of the success has come by financing with cheaper short-term debt which is riskier. We don't think there are any very strong competitive advantages but it is an established incumbent with prime locations and has the advantage of scale. The outlook is for modest growth but the market value of its properties could decline as interest rates rise.  Also there is the risk of vacancies due to recession. And as debt renewed at higher interest rates that would push earnings down. Overall we rate these units as a Buy. In particular they should be attractive to those looking for yield.
DESCRIPTION OF BUSINESS: (updated Q2, 2017) RioCan was formed as a Trust in 1994. It is in the business of owning buildings (and often the associated land) that are leased primarily to retailers. Having sold the U.S. properties that it owned for several years it is once again 100% located in Canada. It has 284 income producing properties (shopping centers of various types) and another 15 under development. The average age of its properties, as of June 30, 2017  is 24 years. It focuses on the six largest cities and 70% of its total properties are in the six largest Canadian Cities. There is a heavy concentration in Ontario which accounts for 66% of annualized rental revenue and another 15% in Alberta. It purchases most of its properties but is also a developer of new shopping properties and of additions (intensifications) to existing retail properties. It has about 669 employees.
ECONOMICS OF THE BUSINESS: This REIT rents out retail space on long-term leases whereby the tenants also pay the direct operating costs such as property taxes and utilities.  The tenants are also responsible to pay most (but not all)  capital maintenance costs. There are no income taxes as long as all earnings are distributed out. Equity for purchasing or developing new projects is usually raised by selling more units and through debt. RioCan has grown mostly by acquisition and increased economies of scale have contributed to earnings per unit growth. Rising rents have also contributed to rising earnings per unit. The direction of rents and interest rates over time can have a major impact on profitability. Recently its adjusted earnings were 42.7% of revenue, However, this amounted to only 3.4% of ending assets as revenues are only 8% of assets. The 3.4% was then leveraged up to an ROE of 6.2% of ending equity as equity is 56% as large as assets. Overall, the economics are not great as they do not generate a high ROE but this may reflect the arguably low risk nature of the returns.
Risks: Please see annual report for additional risks. For investors the main risk is that the unit price could fall simply due to higher market interest rates or due to vacancies in recession conditions. Financially it does not appear to us that the company faces any risks that we are concerned about. Possible risks would include higher interest expense and unexpected large capital maintenance costs. Another significant risk is that the Canadian government(s) will cease to exempt REITs from income tax. In our opinion there is no good rationale for the exemption and it is particularly problematic (for the government tax revenues) when units are held in tax free savings accounts.
INSIDER TRADING / INSIDER HOLDING: Checking from February 1, 2017 to September 17, 2017. Two insiders bought n March and June at $25 to $26. One insider exercised 10,000 options and sold at $26.50 but still holds 22,000 units. About ten insiders were buying under a plan but we take no signal from that as it tends to be unrelated to the unit price. Overall, the insider trading signal is moderately positive.  Turning to insider holdings of shares we are disappointed to see that most hold more options than actual units. The CEO (and founder) holds 420,000 units worth about $10.4 million. We find that perhaps surprisingly low for the founder and CEO of a company that is worth $7,800 million and wonder why he does not own more. For whatever reasons, he has sold many hundreds of thousands of units over the years. But he owns 3.1 million options. Overall quite a few executives and directors have amassed relatively large holdings probably almost entirely through options and the conversion thereof.
WARREN BUFFETT's CRITERIA: Buffett indicates that all investments must pass four key tests: the business is  simple to understand (pass, it is a simple business although the accounting and calculation of adjusted earnings is complex and subject to debate), has favorable long-term economics due to cost advantages or superior brand power (marginal pass because space rent is a something of a commodity business except for location but it does have existing prime desirable locations), apparently able and trustworthy management (pass), a sensible price – below its intrinsic value (pass) Other criteria that have been attributed to Buffett include: a low  debt ratio (pass), good recent profit history (marginal pass) little chance of permanent loss of the investors capital (marginal pass, property values can certainly slump although that would not be permanent and interest rates can rise, lowering property values) a low level of maintenance type capital spending required to maintain existing operations excluding growth (pass since it appears most capital spending is passed on to tenants)
MOST RECENT EARNINGS AND SALES TREND: Revenues per unit in the past four quarters starting with the most recent, being Q2 2016 have grown at 3.2%, 1.1%, negative 1.0% and negative 13.8%. Adjusted earnings per unit (adjusted cash flows from operations) in the same quarters have grown at 24%, negative 3.5%, 5.8% and negative 0.8%. The volatility in these figures suggests that it includes some one-time items and is not a great view of adjusted earnings. Revenue per unit growth in 2016 was 2.4%. Adjusted earnings per unit were down 1.5% in 2016. Revenue per unit growth in 2015 was negative 15% (possibly impacted by one-time items). Adjusted earnings per unit grew 4.0% in 2015. Revenue per unit growth in 2014 was 5.1%. Adjusted earnings per unit grew 2.0% in 2014.  Revenue per unit growth in 2013 was minus 1.8%. Adjusted earnings per unit grew 1.3% in 2014. Revenue per unit growth in 2012 was 5% and in 2011 was 4%. Adjusted earnings per unit grew 5.5% in 2012 and  4.2% in 2011. These growth figures are reasonably good especially considering that basically 100% of earnings are paid out as cash distributions. However the growth in the past year is modest.
COMPARABLE STORE SALES: The committed occupancy rate as at Q2, 2017 was 96.7%. The reported same property income growth in the past four quarters beginning with Q2, 2017  was 1.9%, 1.5%, 2.2% and 2.0%.
Earnings Growth Scenario and Justifiable P/E: An entity that distributes all of its earnings and which has stable earnings such that the market required return is only 5.5% could justify a P/E as high as 18 with no growth and 28 with 2% growth. If the required return was 7.5% then it would take 2% growth to justify a P/E of 18.
VALUE RATIOS: Analyzed at a price of $23.84. The yield at 5.9% is attractive.  The price to book ratio seems attractive at 0.98, however keep in mind that its assets are marked to market value and that the market value of existing properties is likely to decline as interest rates increase. Our earnings ratios rely on managements adjusted cash from operations figure which deducts gains on property values and deducts maintenance capital spending and appears to be a reasonable interpretation of true earnings except it does not deduct for unusual gains on investment securities (we also deduct stock compensation which management does not). The adjusted P/E ratio seems reasonable at 15.9. The adjusted ROE in the past 12 months seems low at 6.3%, however it would be much higher if the properties had not been marked up to market value.   If the distribution and earnings per unit rises at 3% annually and the units are sold in five years at a P/E of 14 then we calculate a value of $25.20. If growth is 5% per year (which may be optimistic) and the units can be sold at a P/E of 16, then we calculate a value of $30.40. These values assume a required return of 5.5% per year, reflecting the apparent lower risk nature of the return. Overall the value ratios would suggest a rating of Buy.
SUPPORTING RESEARCH AND ANALYSIS
 
Symbol and Exchange:
REI.un, Toronto
Currency:
$ Canadian
Contact:
cgreen@riocan.com
Web-site:
www.riocan.com
INCOME AND PRICE / EARNINGS RATIO ANALYSIS
 
Latest four quarters annual sales $ millions:
$1,150.0
Latest four quarters annual earnings $ millions:
$725.0
P/E ratio based on latest four quarters earnings:
10.7
Latest four quarters annual earnings, adjusted, $ millions:
$490.6
BASIS OR SOURCE OF ADJUSTED EARNINGS: For 2017 and the prior quarterlies used adjusted cash flow from operations but deducted preferred dividends and an estimate of unit-based compensation from that.  For 2013 and 2014 used adjusted FFO except we deducted stock compensation from that. Prior to that, we adjusted for gains or losses  on assets sales. And adjusted for gains losses in market value of properties including impairments. In 2011 we added back a one-time expense for early redemption of debentures.
Quality of Earnings Measurement and Persistence: Adjusted earnings (per unit) (cash generated) as defined above should be relatively stable and should rise modestly over time. Threats to that would include a sharp rise in interest rates, leading eventually to higher borrowing costs,  or a recession leading to lower rents and/or vacancies. As to the accuracy of earnings measurement, that is a different story. Under IFRS there is no depreciation. Depreciation expense is real but must be estimated. It is unclear to us if in reality deprecation expense is offset by gains in value of property. Also some (or perhaps most)  of the capital costs that periodically occur as buildings depreciate are paid by tenants.
P/E ratio based on latest four quarters earnings, adjusted
15.9
Latest fiscal year annual earnings:
$831.0
P/E ratio based on latest fiscal year earnings:
9.4
Fiscal earnings adjusted:
$497.0
P/E ratio for fiscal earnings adjusted:
15.7
Latest four quarters profit as percent of sales
42.7%
Dividend Yield:
5.9%
Price / Sales Ratio
6.78
BALANCE SHEET ITEMS
 
Price to (diluted) book value ratio:
                                        0.98
Balance Sheet: (Q2 2017) Assets consist almost entirely (94%) of investment properties. It is important to understand that these assets are adjusted to market value quarterly, in general the amount paid for and/or invested in the assets was significantly lower than current market value. Under this system there is no goodwill recorded.  Investments represent 2% of assets.  Accounts receivable are 2%.  The remaining 1% is cash and assets held for sale. On the liability and equity side of the balance sheet, these assets are financed as follows: 3% by accounts payable, 41% by debt and 56% by common equity. This is a strong balance sheet.
Quality of Net Assets (Book Equity Value) Measurement: Under International Financial Accounting Standards the Trust has been required to mark to market its properties. Therefore the book value of assets here is meant to be very real. In theory it is accurately measured. However the valuation depends on the "cap rate" used and these in turn can change rapidly with interest rates. So while the assets are valued accurately, the value will change. To be clear the value will decline, all else equal, as interest rates rise.
Number of Diluted common shares in millions:
                                327.2
Controlling Shareholder: There is no controlling owner. Insiders control a total of only about 0.5%. No one controls more than 10%.
Market Equity Capitalization (Value) $ millions:
$7,800.5
Percentage of assets supported by common equity: (remainder is debt or other liabilities)
55.8%
Interest-bearing debt as a percentage of common equity
74%
Current assets / current liabilities:
not disclosed
Liquidity and capital structure: The balance sheet seems reasonably strong. The entity credit rating from S&P is adequate at BBB. And the debentures have a strong rating at BBB (high) from DBRS. These ratings were as reported in the 2017 Q2 report. At Q2, debt was 74% of the equity level which does not seem excessive at all.
RETURN ON EQUITY AND ON MARKET VALUE
 
Latest four quarters adjusted (if applicable) net income return on average equity:
6.3%
Latest fiscal year adjusted (if applicable) net income return on average equity:
6.4%
Adjusted (if applicable) latest four quarters return on market capitalization:
6.3%
GROWTH RATIOS, OUTLOOK and CALCULATED INTRINSIC VALUE PER SHARE
 
5 years compounded growth in sales/share
-1.2%
Volatility of sales growth per share:
 steady modest growth
5 Years compounded growth in earnings/share
-4.7%
5 years compounded growth in adjusted earnings per share
2.3%
Volatility of earnings growth:
 steady modest growth
Projected current year earnings $millions:
not available
Management projected price to earnings ratio:
not available
Over the last ten years, has this been a truly excellent company exhibiting strong and steady growth in revenues per share and in earnings per share?
No, but it distributes all earnings which limits growth
Expected growth in EPS based on adjusted fiscal Return on equity times percent of earnings retained:
0.4%
More conservative estimate of compounded growth in earnings per share over the forecast period:
3.0%
More optimistic estimate of compounded growth in earnings per share over the forecast period:
5.0%
OUTLOOK FOR BUSINESS: It seems likely that earnings per unit (and cash and distributions) can continue to rise moderately. Book value per share may decrease in the near term due to higher interest rates. Earnings / cash could also be decreased by higher interest rates although that impact may not occur in the next few quarters. Development projects could push earnings/cash higher.
LONG TERM PREDICTABILITY:  Longer term debt renewals at higher interest rates could hurt profits. Their continued exemption from income tax is hard to predict.
Estimated present value per share: We calculate  $25.20 if adjusted earnings per share grow for 5 years at the more conservative rate of 3% and the shares can then be sold at a P/E of 14 (yield of 7.1%) and $30.40 if adjusted earnings per share grow at the more optimistic rate of 5% annually for 5 years and the shares can then be sold at a P/E of 16 (yield of 6.25%). Both estimates use a 5.5% required rate of return which recognises the stable and cash nature of the return.
ADDITIONAL COMMENTS
 
INDUSTRY ATTRACTIVENESS: (These comments reflect the industry and the company's particular incumbent position within that industry segment.) Michael Porter of Harvard argues that an attractive industry is one where firms are somewhat protected from competition based on the following four tests. Barriers to entry (marginal pass as barriers would be access to capital, expertise and prime locations). No issues with powerful suppliers (pass). No issues with dependence on powerful customers (pass as no single tenant is over about 5% of revenue), No potential for substitute products (pass) No tendency to compete ruinously on price (marginal pass, as competition could result in very low prices when there is over-capacity in the industry). Overall this industry appears to be moderately attractive for an established incumbent.
COMPETITIVE ADVANTAGE: In our opinion RioCan has only limited competitive advantages. Certainly as an established and large player it has the skills and abilities to construct or buy real estate and to lease it out and manage it. But we suspect there are enough other players with those same advantages to insure that no player really has any great competitive advantage. This seems like a highly competitive business and we believe that the modest returns and low cap rates attest to the competitive nature of the industry. Nevertheless it does take capital and expertise to compete and incumbents like RioCan have prime locations.
COMPETITIVE POSITION: We have not really clear how competitive position really applies to a retail property landlord. We believe that the ownership of retail property is quite fragmented. Therefore we expect that for the most part property owners are subject to charging the going rate for rent in a competitive environment. However RioCan as the owner of certain desirable properties may be in a position to charge relatively attractive rents in some cases and exert some competitive power. And it has the advantage of scale.
RECENT EVENTS: Debt has been reduced with the 2016 sales of the U.S. properties at a substantial gain. Most of the vacated Target Canada space has bee re-leased at higher rates. There are a significant number of growth and redevelopment projects underway. Sears is in creditor protection but only accounts for 0.6% of rental revenue.
ACCOUNTING AND DISCLOSURE ISSUES: The disclosure is very detailed with information by property. In discussion of growth there should be more of a focus on growth per unit. Certain historic figures (for example the 2014 revenue) have been changed when the figures are shown for comparison in later reports. This was not very well disclosed and could mislead. The disclosure seems excessively detailed and is repetitious within each report and across reports. This may detract from the ability to convey the key facts.  The detail however may result in REIT analysts calculating an accurate value for the units. The fact that properties are now marked to market value under IFRS accounting should make the price to book ratio much more relevant. The company does not clearly disclose earnings to common unit holders (after deducting pref dividends) on its financial statements (although it is in the notes) which is quite disturbing. Accounting rules do not charge any depreciation expense. There were several definitions of revenue in use. The company does not seem consistent in focusing on Adjusted Cash from Operations as the most relevant "earnings" figure. The adjusted cash figure should deduct gains on security sales but does not. This appears to be due to accounting regulations for this figure.
COMMON SHARE STRUCTURE USED: Trust units, one vote per unit.
MANAGEMENT QUALITY: Management quality seems strong. Management, in reporting to unit holders, speaks of "your REIT". That is a very positive sign that management has the correct attitude. However, we would like to see more focus on per unit figures rather than absolute growth. Also management has taken risks by financing on a relatively short term basis. Management appears to have acted quickly and intelligently in buying back units when prices fell in mid 2013. The recent decision to sell the U.S. properties seems wise given the currency gains. Recently management has lowered the debt levels which seems prudent in the face of higher interest rates and general concern about the future of bricks and mortar retail.
Capital Allocation Skills: Management seems to have made good decision in raising and spending capital. To some degree the tactic of paying a high dividends but then and periodically raising capital from new issues does not seem entirely sound from a theoretical perspective. In effect unit holders are constantly selling off a certain percentage of the company to raise new money which is needed due to the large dividend. On the other hand the large dividend insures that the market price of the units is high so that units are not being sold off at a bargain price. Given this and given the tax exempt status that paying out all earnings allows, this process of paying out money and then selling units (including through the DRIP) seems to work very well.
EXECUTIVE COMPENSATION: In 2014 compensation for the top five officers ranged from a total of $1.1 million to $6.0 million.  The base salaries are not at all excessive and the total was driven up by options grants that also are not excessive, by performance pay and by pension value. Overall given the size of the company the executive compensation is not a concern.
BOARD OF DIRECTORS: The Board of Trustees for the Trust consists of nine members. There are some long-standing members and some newer members. Board members have executive and or legal experience or investment industry experience. There is some retail and finance  experience and some property development experience. Most have enough units to insure they have some financial interest. However the units did arise mostly as compensation and the compensation is relatively high which could limit the ability of trustees to act independently. Overall this appears to be a well qualified Board.
Basis and Limitations of Analysis: The following applies to all the companies rated. Conclusions are based largely on achieved earnings, balance sheet strength, earnings growth trend and industry attractiveness. We undertake a relatively detailed  analysis of the published financial statements including growth per share trends and our general view of the industry attractiveness and the company's growth prospects. Despite this diligence our analysis is subject to limitations including the following examples. We have not met with management or discussed the long term earnings growth prospects with management. We have not reviewed all press releases. We typically have no special expertise or knowledge of the industry.
DISCLAIMER: All stock ratings presented are "generic" in nature and do not take into account the unique circumstances and risk tolerance and risk capacity of any individual. The information presented is not a recommendation for any individual to buy or sell any security. The authors are not registered investment advisors and the information presented is not to be considered investment advice to any individual. The reader should consult a registered investment advisor or registered dealer prior to making any investment decision. For ease of writing style the newsletter and articles are often written in the first person. But, legally speaking, all information and opinions are provided by InvestorsFriend Inc. and not by the authors as individuals. The author(s) of this report may have a position, as disclosed in each report. The authors' positions may subsequently change without notice.
© Copyright:  InvestorsFriend Inc. 1999 – 2017  All rights to format and content are reserved.