Linamar Incorporated
Linamar Incorporated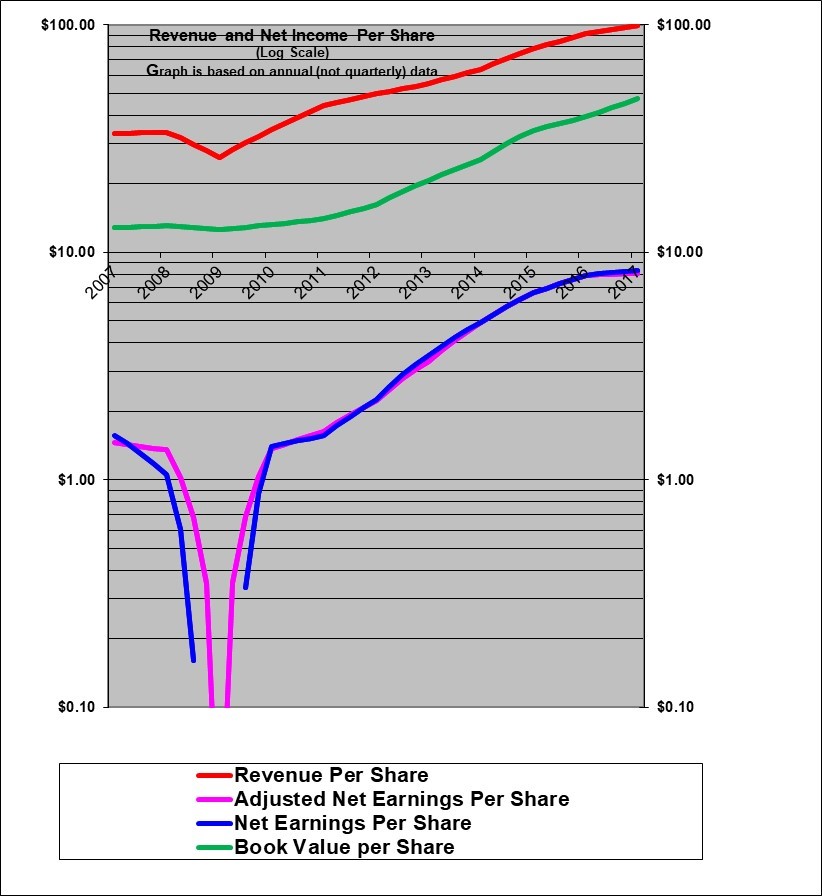 Revenues per share (the red line) have grown quite steadily since 2009 but growth has slowed somewhat in 2017. Earnings per share have grown steadily since 2009 but with low growth in 2017. The low growth in 2017 was partly due to foreign exchange fluctuations and an unusual gain in 2016. The company does not provide enough detail on unusual items for us to properly adjust earnings. This is conservative, most companies adjust earnings upwards for unusual items, rarely downwards. Book value per share (The green line) has grown steadily since 2009.
Linamar Corporation
RESEARCH SUMMARY
Report Author(s):
InvestorsFriend Inc. Analyst(s)
Author(s)' disclosure of share ownership:
 The Author(s) hold no shares
Based on financials from:
Dec '17 Y.E.
Last updated:
19-Mar-18
Share Price At Date of Last Update:
 $                             71.73
Currency:
$ Canadian
Generic Rating (This rating does not consider the circumstances of any individual investor and is therefore not specific advice for any individual):
Strong Buy rated at $71.73
SUMMARY AND RATING:  The graph of revenues per share (red line) shows  very strong growth since the end of 2009. But the company did have a dip in sales and reported a loss in 2009 although it broke even on an adjusted basis. Earnings and sales growth had been quite flat in the years 2005 through 2008 for reasons that we are not familiar with  The Value ratios would indicate a Strong Buy given the relatively low 8.9 P/E ratio and the 19% ROE and strong earnings growth.  Management quality appears to be excellent . The insider trading signal is negative.  Executive compensation is high but not of any big concern.  The company is projecting continued strong growth in 2018 and based on its past success we would expect it to continue to grow its earnings in the long term. The earnings growth trend has been strong but growth was lower in the latest  three quarters. North American auto production declined in the latest two quarters. Linamar appears to have strong economics as a business. The company indicates that the risks from any termination of NAFTA are small but it is always possible that the market price will react negatively. The industry can be cyclic which can cause earnings to decline sharply. Overall, based on its numbers, we would rate this as a Strong Buy at $71.73.
DESCRIPTION OF BUSINESS: Linamar describes itself as a diversified global manufacturing company of highly engineered products. Its products become components of vehicles for engine, transmission, driveline and body systems. It has four operating divisions: Machining & Assembly, Light Metal Casting, Forging and Skyjack (which makes scissor lifts – aerial work platforms, telehandlers and booms) As of Q3, 2017 it has over 25,700 employees in 59 manufacturing locations, 6 R&D centers and 21 sales offices in 17 countries. Annual revenues are over $6 billion and assets are $5.2 billion. In the first nine months of 2017, the Automotive /powertrain division accounts for 84% of revenues and 78% of operating earnings with the Industrial division (which appears to be mostly Skyjack) accounting for 16% of revenues and 22% of operating earnings. In 2016 sales were 47% in Canada, 33% to Europe, 10% to the U.S. and 5% to each of Mexico and Asia/Pacific. Interestingly assets at end of 2016 were 45% in Europe, and only 30% in Canada, 13% in the U.S. 7% Asia/Pacific and 5% Mexico.
ECONOMICS OF THE BUSINESS: The economics of the business appear to be very good given the 19% return on equity. Its customers are somewhat reliant on it and cannot easily or quickly switch to alternate supplies in many cases.
RISKS: The possible end of NAFTA could be a risk but the company believes that the impact would be minimal. The main risks are probably competitive pressures in a cyclical industry. There are also likely risks regarding product liabilities.
INSIDER TRADING / INSIDER HOLDING: (Based on September 1, 2017 to March 19, 2018) Notable trades include: An officer selling 3000 shares at $72 in September to hold none. An officer selling 2000 shares on January 5th (black-out period violation?) at about $78 to hold 2000. An insiders wife selling 16,600 shares on January 4th at $75.55 but still holding 715,000 shares. An insider selling 2500 shares in October at $79 to hold 3,769. The founder gifted  some shares at $76. The CEO (and founder's daughter) bout 50,000 shares for herself at $76 and also bough 100 shares for each of four kids. In November a senior officer is shown buying and then selling the same number of shares at the same price around $66.50. A director sold 5000 shares in September at $74 and an additional 5000 in March at $73. An officer sold 1500 in January at $75. There were also a few small buys but they looked like they may have been compensation rather than independent buys. Overall, at the current price of about $72, the insider buying signal is negative despite the confidence shown by the CEO.
WARREN BUFFETT's CRITERIA: Buffett indicates that all investments must pass four key tests: the business is  simple to understand and predict (marginal pass given it sells to industry not consumers and given the complexity of its products), has favorable long-term economics due to cost advantages or superior brand power (pass based on know-how and past performance), apparently able and trustworthy management (pass given the track record and their rational approach), a sensible price – below its intrinsic value (pass), Other criteria that have been attributed to Buffett include: a low  debt ratio (pass), good recent profit history (pass) little chance of permanent loss of the investors capital (pass) a low level of maintenance type capital spending required to maintain existing operations excluding growth (pass)
MOST RECENT EARNINGS AND SALES TREND: In the past four quarters, starting with the most recent (Q4, 2017)  earnings per share were up 3%, down 12% (but management claims up 9% if adjusted) up 3%, up 15%, and  up 22%. In 2017, earnings per share were up 2.1% (but would have been higher if adjusted) In 2016, earnings per share were up 19%. In 2015, earnings per share were up 35%. Meanwhile, revenues per share in the past four quarters were up 14%, up 6%, up 6%, and up 9%. In 2017 revenues per share were up 9%. In 2016, revenues per share were up 16%. In 2015, revenues per share were up 23%. Overall, the recent earnings and sales trend has been very positive, although there was only modest growth in the latest quarter. .
COMPARABLE STORE SALES  OR INDUSTRY SPECIFIC STATISTICS: North American vehicle production declined 4.7% in Q4 2017 and declined 7.7% in Q3 and 3.9% for the full year. Linamar's content per vehicle produced in North America rose 10.0% in Q4 2017, rose 6.9% in Q3, rose 2.2% in Q2, but fell 7% in Q1 and fell 8% in Q4 2016 but was up 2.3% in the full year 2016.  In Europe vehicle production units soared 8.8% in Q4 and was up 3.4% for the year. The content per vehicle was up 12.0% in Q4,  up 6.4% in Q3, up 7% in Q2, and up 8% in Q1, It was up 9.5% in 2017 overall. In Asia, which is a small part of their business, the content per vehicle rose 10.7% in Q4, rose 23% in Q3,rose 29% in Q2, and 22% in Q1 16.1% for the full year 2017.
Earnings Growth Scenario and Justifiable P/E: It does not take much growth to justify the recent P/E of 8.9.
VALUE RATIOS: (Analysed at $71.73)  The price to book ratio at 1.5 (and 1.9 times after deducting goodwill) does not seem excessive. The dividend yield is minimal at 0.7% but this is simply because the company chooses to retain the vast majority of its earnings for growth. The dividend represents only 6% of trailing earnings. The P/E ratio is very attractive at 8.9. (And if analyst earnings forecasts are to be believed, it is trading at 6.8times 2018 estimated earnings). The ROE is extremely good at 19%. The earnings per share growth in the past five calendar years has grown at a compounded average of 29% per year. The revenue per share growth in the past five years has grown at a compounded average of 15% annually. It appears that the intrinsic value is perhaps 30% to 100% higher than the current share price although that assumes growth of 6% to 12% annually and that the P/E ratio would rise to 12  to 14. These value ratios, in isolation, would support a Strong Buy rating.
SUPPORTING RESEARCH AND ANALYSIS
 
Symbol and Exchange:
LNR, Toronto
Currency:
$ Canadian
Contact:
investor.relations@linamar.com
Web-site:
www.linamar.com
INCOME AND PRICE / EARNINGS RATIO ANALYSIS
 
Latest four quarters annual sales $ millions:
$6,546.5
Latest four quarters annual earnings $ millions:
$549.4
P/E ratio based on latest four quarters earnings:
8.6
Latest four quarters annual earnings, adjusted, $ millions:
$534.3
BASIS OR SOURCE OF ADJUSTED EARNINGS: As reported by management
Quality of Earnings Measurement and Persistence: Earnings have been persistently and steadily growing in the past ten years with the exception of the financial crisis-affected year in 2009. We have no reason to suspect that the earnings are not "real" given that free cash flow is not much lower than net income. Depreciation does not appear to be under stated given that investments in new property were only 12% larger than the depreciation charge in 2016 despite this being a growing company.
P/E ratio based on latest four quarters earnings, adjusted
8.9
Latest fiscal year annual earnings:
$549.4
P/E ratio based on latest fiscal year earnings:
8.6
Fiscal earnings adjusted:
$534.3
P/E ratio for fiscal earnings adjusted:
8.9
Latest four quarters profit as percent of sales
8.2%
Dividend Yield:
0.7%
Price / Sales Ratio
0.72
BALANCE SHEET ITEMS
 
Price to (diluted) book value ratio:
                                        1.53
Balance Sheet: (as of Q3 2017) The assets are comprised as follows: 37% is property, plant and equipment, 27% is accounts and other receivable (surprisingly large, in part because they are financing some customer purchases of equipment over several years via leases to customers), 12% is inventories, 11% is goodwill (almost entirely arising from a 2016 acquisition) 9% is cash, 1% is deferred tax assets, 2% is other intangibles which includes investments in "technology" (software). These assets are supported as follows: 51% by common equity, 25% by debt, 21% by accounts payable and accrued liabilities, 3% by deferred income taxes and 1% by provisions. This is a strong balance sheet.
Quality of Net Assets (Book Equity Value) Measurement: The book value per share is likely conservatively stated and reliable given the modest amount of goodwill and the relatively modest debt leverage.
Number of Diluted common shares in millions:
                                 66.2
Controlling Shareholder: As of the Spring of 2017, the founding Hasenfratz family owns 23.4% of the shares and controls the company.
Market Equity Capitalization (Value) $ millions:
$4,750.4
Percentage of assets supported by common equity: (remainder is debt or other liabilities)
53.2%
Interest-bearing debt as a percentage of common equity
42%
Current assets / current liabilities:
1.9
Liquidity and capital structure: The company appears to have a strong balance sheet and strong liquidity. Debt is relatively modest at 50% of the book equity level.
RETURN ON EQUITY AND ON MARKET VALUE
 
Latest four quarters adjusted (if applicable) net income return on average equity:
18.7%
Latest fiscal year adjusted (if applicable) net income return on average equity:
18.7%
Adjusted (if applicable) latest four quarters return on market capitalization:
11.2%
GROWTH RATIOS, OUTLOOK and CALCULATED INTRINSIC VALUE PER SHARE
 
5 years compounded growth in sales/share
14.8%
Volatility of sales growth per share:
 Cyclical Growth
5 Years compounded growth in earnings/share
29.9%
5 years compounded growth in adjusted earnings per share
29.4%
Volatility of earnings growth:
 Cyclical Growth
Projected current year earnings $millions:
not available
Management projected price to earnings ratio:
not available
Over the last ten years, has this been a truly excellent company exhibiting strong and steady growth in revenues per share and in earnings per share?
Yes, although cyclical
Expected growth in EPS based on adjusted fiscal Return on equity times percent of earnings retained:
17.6%
More conservative estimate of compounded growth in earnings per share over the forecast period:
6.0%
More optimistic estimate of compounded growth in earnings per share over the forecast period:
12.0%
OUTLOOK FOR BUSINESS: In the Q3 2017 conference call, the company projected double digit earnings per share growth for 2018. The Q3 press release indicated that the company " continues to see new business wins at a blistering pace". However the auto parts industry is known to be cyclical.
LONG TERM PREDICTABILITY: The company has been very well managed and we would expect it to continue to grow in the long term
Estimated present value per share: We calculate  $95 if adjusted earnings per share grow for 5 years at the more conservative rate of 6% and the shares can then be sold at a P/E of 12 and $145 if adjusted earnings per share grow at the more optimistic rate of 12% for 5 years and the shares can then be sold at a P/E of 14. Note that the current P/E is just under 9 and so this valuation relies on a substantial increase to the P/E ratio. Both estimates use a 7.0% required rate of return.
ADDITIONAL COMMENTS
 
INDUSTRY ATTRACTIVENESS: (These comments reflect the industry and the company's particular incumbent position within that industry segment.) Michael Porter of Harvard argues that an attractive industry is one where firms are somewhat protected from competition based on the following four tests. Barriers to entry (pass, due to specialised knowledge and the cost to set up manufacturing). No issues with powerful suppliers (pass). No issues with dependence on powerful customers (fail, it may be highly dependent on a few key customers), No potential for substitute products (pass) No tendency to compete ruinously on price (pass, given the profitability). Overall this industry appears to be attractive for Linamar as  an established incumbent.
COMPETITIVE ADVANTAGE: Linamar's competitive advantage likely rests in its accumulated know-how and its established business. It is likely difficult for its customers to switch suppliers. Linamar also likely has an advantage in superior top  management.
COMPETITIVE POSITION: We don't not have market share figures.
RECENT EVENTS: In Q1 2018 the company closed the acquisition of a Canadian agricultural equipment manufacturer for $1.3 billion – which is a large acquisition given the Q4 2017 asset total of $5.8 billion. In Q3 2017 the company created confusion by claiming that adjusted earnings per share were up 9.4% (while the GAAP figure was minus 12%) but could not provide all of the details due to confidentiality. In Q3 2017 it submitted but later abandoned a bid to acquire certain assets in France and Spain from  bankruptcy sales. In Q1 2016 closed the acquisition of Montupet S.A. in France for about $1.2 billion Canadian (for comparison, assets at the time were $3.8 billion – so this was a very large acquisition. Montupet is a global leader in the design and manufacture of complex aluminum castings for the global automotive industry with sales and production facilities diversified across several European countries, North America and Asia. Montupet was acquired through a tender offer as it had been a publicly listed company.
ACCOUNTING AND DISCLOSURE ISSUES: We found the disclosure and accounting to be very straight forward. (A minor point is we would like to see clear disclosure of the diluted share count each quarter, but the share count has been quite stable so this is not of any real concern.) As of Q3, 2017 the company referred to adjusted earnings growth in a very confused fashion – and then in Q4 they never even mentioned the adjustment talked about in Q3.
COMMON SHARE STRUCTURE USED: Normal, one vote per common share
MANAGEMENT QUALITY: Our impression is that management is of the very highest quality
Capital Allocation Skills: It appears that Linamar has excellent capital allocation skills. With a 20% plus return on equity in recent years it has been wise to pay only a small dividend as it retains the great majority of earnings and has invested those very wisely.
EXECUTIVE COMPENSATION: Executive compensation is quite generous ranging from $1 million to $14 million for the five named officers. With this range it seems top-heavy. The compensation for the executive chairman at $12 million seems far too high, although we are not familiar with his role. However, given the earnings performance and the size of the company, executive compensation is of no great concern.
BOARD OF DIRECTORS: (Updated October 2017) Warren Buffett has suggested that ideal Board members be owner-oriented, business-savvy, interested and financially independent. The founder of the company is the executive chairman and his (extremely capable) daughter is the CEO. In addition there are four other members. One is an executive V.P.  of the company who started on the shop floor as a machinist and has been a director since 1999. Another is a retired CEO of a manufacturing company who has been a director since 1990. Another is an accomplished CPA who joined the Board in 2014. Another is a retired CA who was also a President of a Canadian manufacturing company and has been on the Board since 2003. Board compensation is relatively modest. In our view, this is a good Board with the owners in charge. It lacks the independence valued by corporate governance experts and perhaps lacks legal and international representation. But overall, we view this as a good Board and like its extensive manufacturing experience.
Basis and Limitations of Analysis: The following applies to all the companies rated. Conclusions are based largely on achieved earnings, balance sheet strength, earnings growth trend and industry attractiveness. We undertake a relatively detailed  analysis of the published financial statements including growth per share trends and our general view of the industry attractiveness and the company's growth prospects. Despite this diligence our analysis is subject to limitations including the following examples. We have not met with management or discussed the long term earnings growth prospects with management. We have not reviewed all press releases. We typically have no special expertise or knowledge of the industry.
DISCLAIMER: All stock ratings presented are "generic" in nature and do not take into account the unique circumstances and risk tolerance and risk capacity of any individual. The information presented is not a recommendation for any individual to buy or sell any security. The authors are not registered investment advisors and the information presented is not to be considered investment advice to any individual. The reader should consult a registered investment advisor or registered dealer prior to making any investment decision. For ease of writing style the newsletter and articles are often written in the first person. But, legally speaking, all information and opinions are provided by InvestorsFriend Inc. and not by the authors as individuals. The author(s) of this report may have a position, as disclosed in each report. The authors' positions may subsequently change without notice.
© Copyright:  InvestorsFriend Inc. 1999 – 2017  All rights to format and content are reserved.